Wall shelving are standard equipment for every type of store. They can be modified in any way, by selecting the appropriate elements, changing their use depending on the needs. For example, by selecting perforated backs, we gain the possibility of installing product hangers. This solution completely changes the way a wall shelving works. At the customer's eye level, there are hanging products (e.g. hammers), while at the level of the base shelf there are accessories (e.g. nails). Another good example is the selection of special frames and crossbeams for a shop shelving, turning it into an integrated shelf, which is especially popular in DIY stores.
Application
Thanks to the wide range of personalization, the wall shelving are ideal for small, medium and large stores such as:
Lewiatan – storage of all food products (bread, flour, sweets, pasta, etc.), newspapers, drinks, alcohol, coffee, snacks, spices, hygiene products and much more. In Lewiatan stores, wall racks are used in the alcohol and bakery departments. The elegant design perfectly presents the stored products, improving the overall visual aspect.
Auchan – presenting not only the items mentioned above, but also small household appliances / electronics, clothes, toys for children, gardening materials. Auchan stores have a wide range of products, which is why they use several different variants of store shelves. Low wall racks can be found in the department with cosmetics or household appliances / electronics. Perforated shelves can be found in the clothes section. In Auchan stores, we also find integration shelves in the drinks section, where we have drinks at our fingertips, while on the above-placed traverses they are stored on pallets that can be quickly removed with a forklift.
Decathlon – storage of all sports clothes, bows, weights, fishing rods and many other items, excluding heavier equipment such as bicycles. In Decathlon, specialized shop shelves are used, adapted especially for this commercial facility. The use of various types of hangers, fasteners, shelves, etc. makes it possible to store the entire available assortment.
.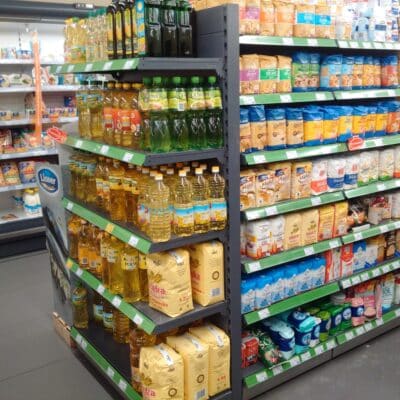 Anthracite gondola type shop shelves with gable shelf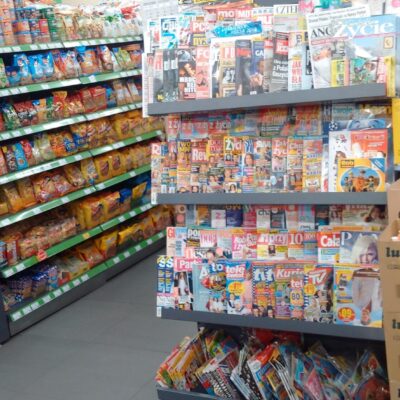 Shop gondolas with a top shelf for newspapers
Advantages
A simple and tested design, the quality of which has been confirmed by the German TUV certificate.

High level of personalization that allows you to adjust the wall shelves to your needs. Various shelf lengths, profile heights, plain and perforated backs, hangers with or without labels, various widths and several available systems.

Can be converted into a gondola shelving. Just add 3 pieces to the other side of the rack. The leg, base shelf and backs are all you need for conversion.
Can be combined with the KI warehouse system, creating an integrated rack designed for DIY stores (additional pallet storage on the upper level).
Quality and safety
All our products meet the formal requirements in terms of health and safety, fire protection. and building regulations. As a manufacturer of wall racks, we guarantee the highest quality of workmanship and the safety of our racks confirmed by the German TUV certificate. This certificate is awarded only to products that comply with European quality and safety standards. The entry in the Certipedia inventory confirms the originality of this document.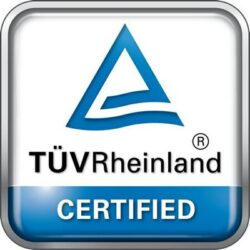 Full service
Feel free to contact us for an individual quote and store design. For larger orders from the factory, we offer a color selection of individual elements from the entire RAL palette.
Financing
We provide attractive financing of wall racks in the form of leasing. You do not need your own funds to finance the investment.
Transport
We organize the transport of wall racks to any place in Poland and the EU.