High storage racks are storage racks specially adapted for storing materials at high altitudes. They make the most of the available height of the storage space. The assembly of high storage racks may only be carried out by a trained and experienced team of fitters, as it is associated with a lot of responsibility. Racks of this type are intended mainly for spacious and high storage halls.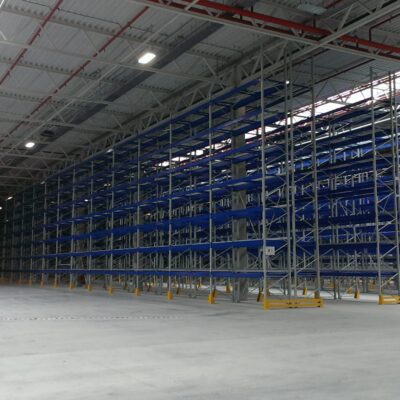 Pallet racks designed for high storage
High storage racks – applications
Large facilities with a large area, intended for the storage of wholesale quantities of various products, should be equipped with high storage racks. As a result, they allow you to increase the maximum storage capacity limit. Examples of such warehouses are:
Warehouses at factories

Warehouses storing products intended for international distribution

Central warehouses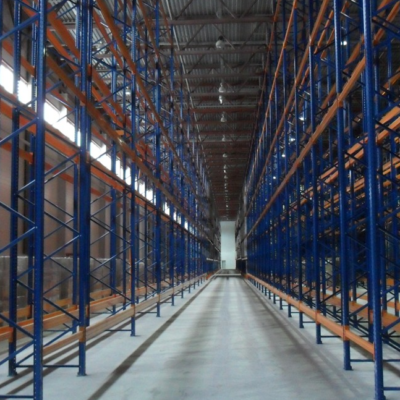 High storage racks – aisle
High storage racks – advantages
Durable construction able to withstand high load

Simple structure allows for easy modification

The high-storage racking plan is designed by our most talented designers, which ensures the maximum and most effective use of the available storage space

The use of high-quality steel and innovative solutions translates into long and reliable operation of the installation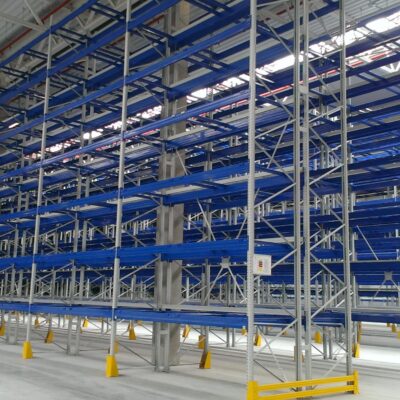 High storage pallet racks
High storage racks – types
High storage racks can be divided into pallet racks and storage mezzanines, which have been specially prepared for high-altitude storage. The main differences are:
Pallet racks generally have a higher load capacity than a mezzanine

Warehouse mezzanines allow you to store goods on pallets and loose items

Pallet racks are cheaper than warehouse mezzanines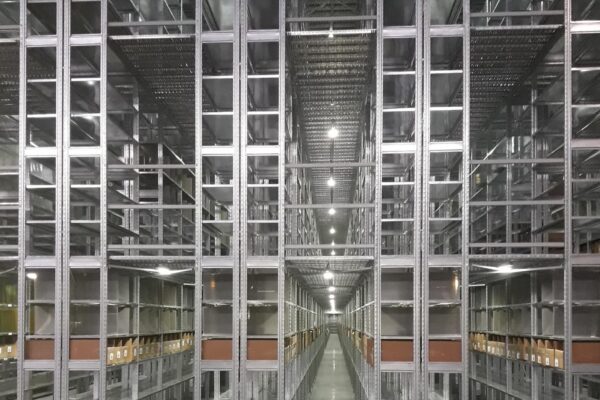 Warehouse mezzanines allow you to expand the available warehouse space by adding an additional level of storage. Storage at an additional level takes place on pallets or shelf racks. The best places for the location of warehouse mezzanines are warehouses, where:
Both pallets and small items are stored

The construction of the hall does not allow the assembly of pallet racks

There is not enough space for storage

You need to make the most of the available space
The use of storage mezzanines may change depending on the configuration, e.g. a mezzanine equipped with lower shelf racks is ideal for storing general cargo on the ground floor and pallets on a higher level.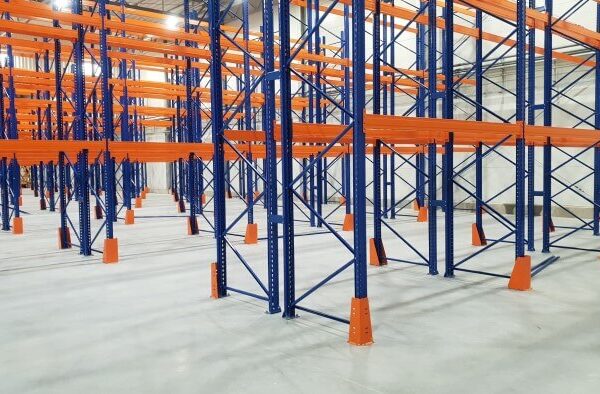 Pallet racks are the optimal solution for facilities where the goods are stored mainly on pallets. A wide range of various profiles, crossbeams and accessories allows for appropriate and personalized warehouse equipment.
If you are interested in furnishing a warehouse, we can offer the design and valuation of warehouse space, according to your specifications. Thanks to this process, we can complete pallet racks that will maximize the use of the available space.
An additional advantage of such a solution is the possibility of selecting specialized accessories for a pallet rack, e.g. safety net, frame bumpers, entrance gates and many others.
Quality and safety
All our storage racks meet the formal requirements in terms of health and safety, fire protection. and building regulations. As a manufacturer of high storage racks, we guarantee the highest quality of workmanship and the safety of our racks confirmed by the German TUV certificate.
This certificate is awarded only to products that comply with European quality and safety standards. The entry in the Certipedia inventory confirms the originality of this document.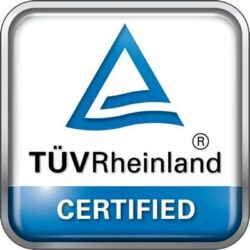 Full service
Feel free to contact us for individual pricing and warehouse design for high storage racks. For larger orders from the factory, we offer a color selection of individual elements from the entire RAL palette.
Transport
We organize the transport of high storage racks to any place in Poland and the EU.
Financing
We provide attractive financing of high storage racks in the form of leasing. You do not need your own funds to finance the investment.
Frequently asked questions
The main difference is the use of structural elements with increased strength and additional bracing. These measures are aimed at increasing the maximum load capacity, strength and stiffness of the rack, allowing it to achieve a greater maximum height.
Most often it is assumed that it is at least 7 m for the storage level and 12 m for the building (tall buildings). However, there is no legal definition of high bay racking in the legislation.
Unfortunately, no, due to their high height, high-bay racks are susceptible to wind. Strong winds could shake such shelves and lead to the collapse of the structure.