Shop shelving is one of the most important elements of store equipment. It is on them that we store all goods. The selection of appropriate shelves is very important depending on the size of the retail space of the store that we equip. Rack elements such as: the length of the shelves, the right colour, the height of the rack have a significant impact on the way the offered products will look. As a manufacturer of shop shelving, we are able to provide you with store shelves in any size, configuration and accessories.
For example, using a deeper shelf on the first floor of the rack will better show the goods that would otherwise be covered by the next shelves above them. Some products are better seen against a cream background, and others against an anthracite background. Therefore, the colour of the racks is best selected based on the categories of stored products. High shelves are perfect for large stores like Lewiatan or Auchan, while low shelves are best for gas stations.
Buy cheaper directly from the shop shelving manufacturer!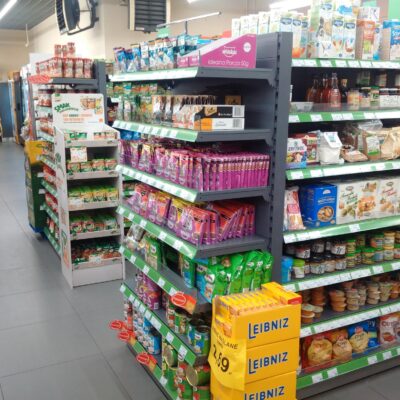 Gable shop shelving with animal feed
A wide range of shelves and accessories

As a manufacturer of metal shop shelves, we are able to supply powder coated shelves, wire or chrome shelves. Racks can be ordered from us in various heights, depths and widths, which allows each store to be arranged individually, tailored to the needs of the goods on display. For the racks, we offer a set of accessories that increase its functionality, e.g. partitions, security, labels, hangers, handles. We can also manufacture and deliver non-standard accessories, made to individual customer orders. We produce universal shelves, as well as specialized shelves for specific types of stores, e.g. vegetable, bakery, alcohol, drinks, press, household appliances, clothes shelves. All offered shop shelves are compatible, they can be combined with each other, changing or re-arranging the look of the store. You can find and order three main types of shop shelves – wall shelves, shop gondolas and corner shelves.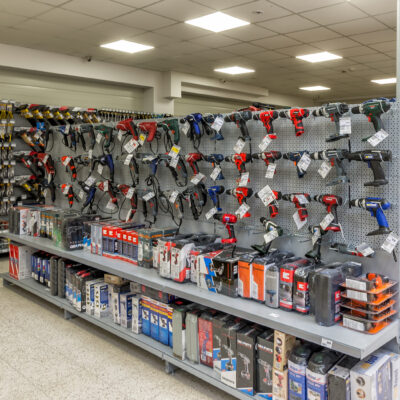 Metal rack with perforated backs and hooks for power tools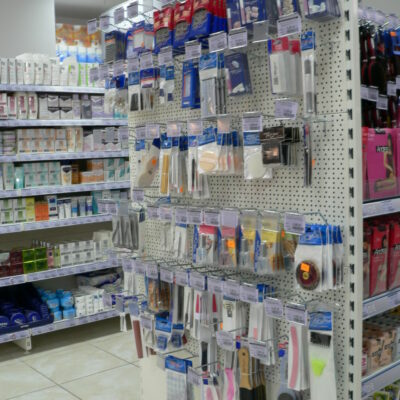 Gable rack equipped with perforated backs and hangers with labels
The colours of the shop shelving
Metal shop shelves are painted in RAL colours. The most frequently chosen colours by customers are white (RAL 9001), anthracite (RAL 7016) and light gray (RAL 7035). As a manufacturer of shop shelves, we can also supply other colours on request, which are available in our offer. The full range of RAL colours can be found here.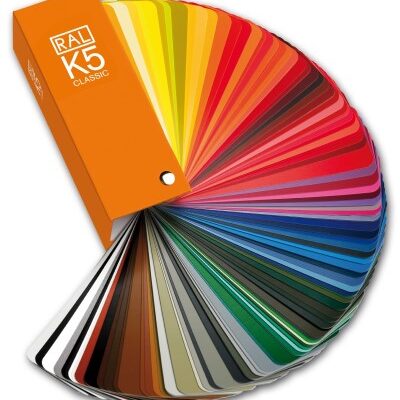 RAL colour palette for metal shelves
Shop shelving – applications
Typical Applications:
grocery stores

drugstores, chemical store

interior design stores

pharmacies

liquor stores

greengrocers

household appliances and electronics stores

clothes shop

florists industrial

stores

gas stations

bakery stores

DIY stores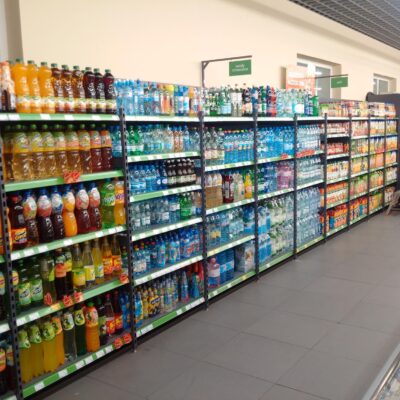 A line of wall-mounted shelves for drinks
Shop shelving – construction
Kifato metal shop shelving are made of high-quality cold-rolled steel. The posts are made of perforated profiles, which significantly increases their mechanical strength. Depending on the needs and destination, the shelves can be made of solid sheet or wire. The walls are offered as full, perforated or wire. Various solutions can be combined with each other. The high quality of the steel used and the mechanically reinforced structure translate into high resistance to damage and extended use of metal shelves in shops.
The most important features of metal shelves:
solid construction (posts made of perforated profiles)

reinforced shelves

high resistance to damage high load capacity

possibility of building in sequences

adjustable angle of the shelves

simple rack assembly

the possibility of adjusting the height of the shelves

solid, perforated or wire walls

aesthetic appearance

the possibility of adding wheels – we get mobile shelves

long service life

possibility of combining with integration shelves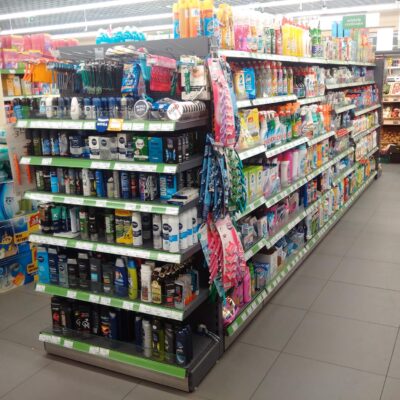 Shop gondola with a top shelf – anthracite colour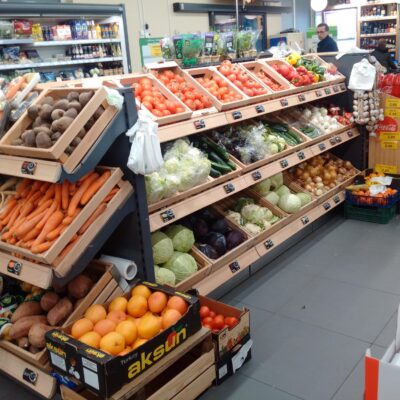 Store shelving with a food island
Self-assembly
Thanks to its simple modular structure, shop shelves can be assembled completely by yourself, without employing a qualified team. The entire assembly does not require any tools or screws, as all elements are press-fitted. Each order comes with an assembly manual that explains step by step how to assemble the rack yourself. We recommend the presence of two people when assembling a shop rack, as it makes this process much easier.
Shop shelving can be divided into 4 categories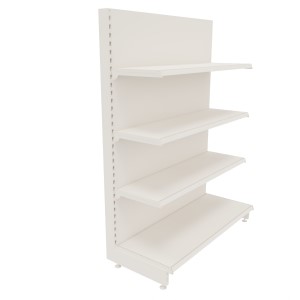 Wall racks are standard equipment for every type of store. They can be modified in any way, by selecting the appropriate elements, changing their use depending on the needs. For example, by selecting perforated backs, we gain the possibility of installing product hangers. This solution completely changes the way a wall rack works.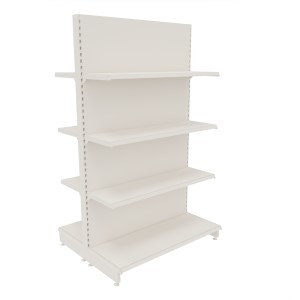 Shop gondolas perform a function similar to that of wall racks. The only difference is that they are erected as free-standing structures. The double-sided design allows easy access to goods from both sides, while also increasing their overall stability. They can be modified in any way, by selecting the appropriate components and accessories, changing their use depending on the needs.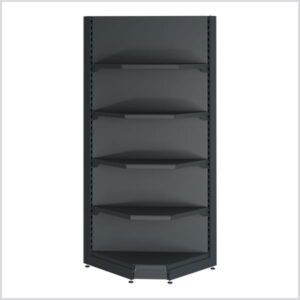 Corner racks are used to extend the rack line in places where there is a bend or a corner. They can be divided into two subcategories: internal and external. Internal corner racks are used to extend the draft in the corners. External corner racks are used when changing the direction of the racks when they are placed inside the room.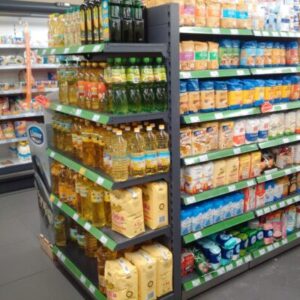 Gable shelves serve as an aesthetic and ergonomic end to a series of shelves. They provide additional space for displaying products and prevent objects from falling off the side of the line they finish. However, their most important advantage is the possibility of displaying the goods on sale.
Dimensions of shop shelves
perforation (graduation) 50 mm. Other available perforations for metal shelves are 25 mm and 35 mm.

height 190 cm, 210 cm, 230 cm. The offer includes lower and higher racks up to 560 cm in height.

width 66 cm, 100 cm, 125 cm, 133 cm.

shelves depth: 27 cm, 37 cm, 47 cm, 57 cm, 67 cm, 77 cm.

poles: 30 × 30 mm, 60 × 30 mm, 80 × 30 mm, 110 × 30 mm.

inclination of shelves / supports at an angle: 0 °, 20 °, 35 °.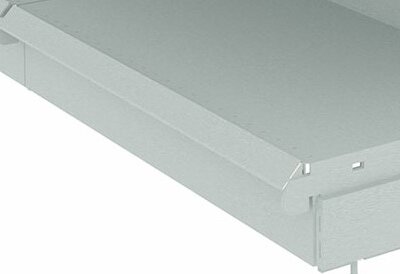 Bottom cover
A simple addition to a shop rack that prevents products from accidentally falling under the rack.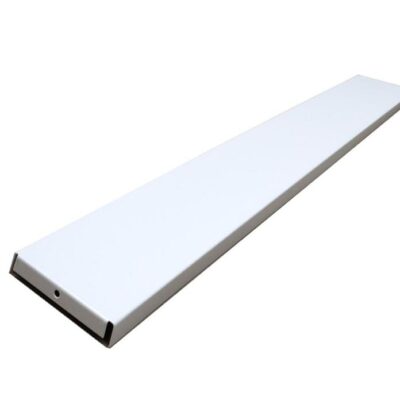 Top cover
Used for shop gondolas to "hide" the gaps between the backs mounted to the profile. It is designed to prevent unwanted materials from falling between the backs of the racks, while also serving as an aesthetic function.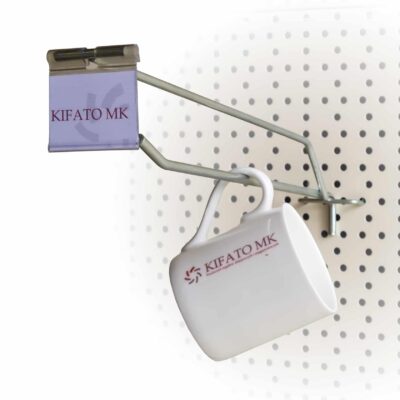 Hangers and labels
Used in shelves for hanging various products, e.g. electronics packaging, dog collars, hair brushes and many others.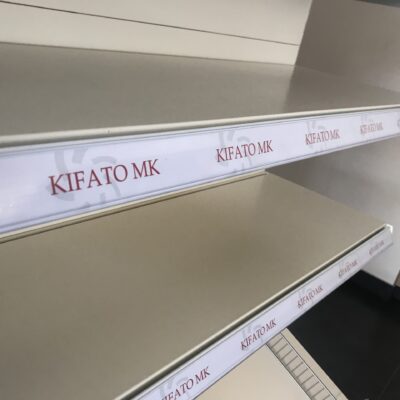 Price strips
A place to insert information with the current prices of products or an imprint with the store's logo.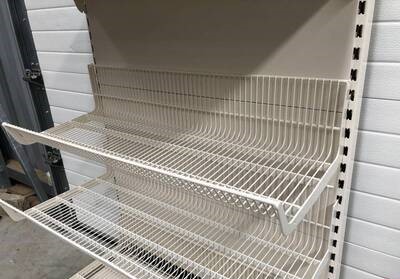 Mesh basket
It is used to store fruit and vegetables, ensuring that they will not fall out of the store shelves on the floor by accident.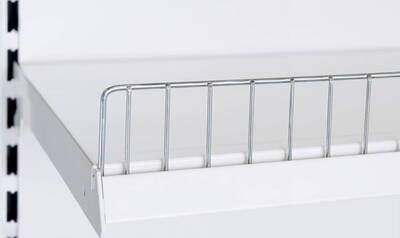 Mesh limiters
They secure products in a specific place on the rack, preventing them from sliding off the angled shelf.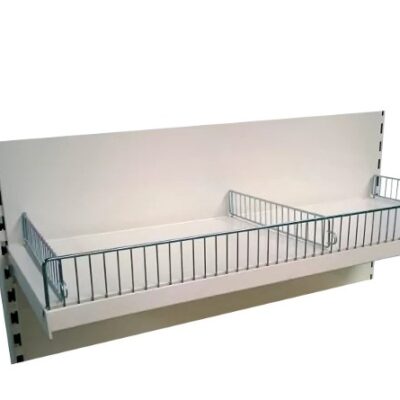 Shelf separators
They are designed to separate different types of products from each other displayed on the shelf. Installation of separators in a shop rack requires the prior installation of a mesh limiter.
Advertising topper
It is used for the visible presentation of advertisements or the title of individual product categories that are on the shelves.
Products

 similar to shop shelving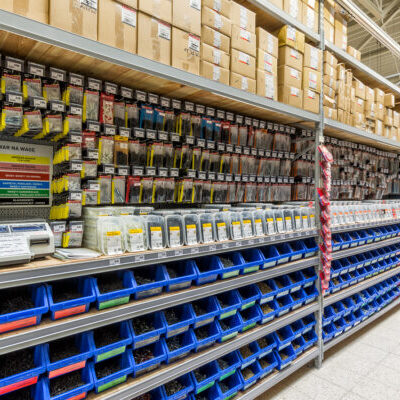 A system that is perfect for facilities offering construction, renovation and interior design products. Racks of this type are most often used in stores, construction depots and wholesalers.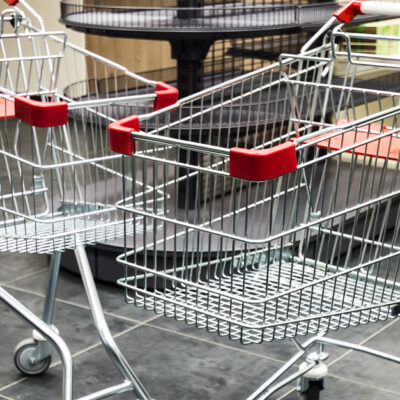 Mandatory equipment for every store with a wide range of products. The ability to easily transport goods is very important for customers, it allows them to make larger purchases, which certainly translates into greater profits for the store.
Transport
We organize the transport of shop shelving to any place in Poland and the EU.
Financing
We provide attractive financing of shop shelving in the form of leasing. You do not need your own funds to finance the investment.
Frequently asked questions