Pallet racking is the optimal solution for facilities where goods are stored mainly on pallets. Wide range of various profiles, crossbeams and accessories, allows for appropriate and personalized warehouse equipment.
If you are interested in furnishing a warehouse, we can offer to design and valuate a warehouse space, according to your specifications. Thanks to this process, we can configure pallet racks that will maximize the use of the available space.
Another benefit of such solutions is possibility of selection specialized accessories to warehouse rack such as: safety net, frame bumpers, entrance gates and many more
Perfect choice for every warehouse
Low installation costs, reliability, versatility and high level of customization make pallet racking applicable in many warehouses, among those are:
– with loose load (boxes, chests, foil-wrapped products)
– intended for storing pallets of various loads
– where order picking takes place directly from the pallet
– where easy access to palletized products takes priority
– where maximum usage of available space is needed
Such facilities include, among others:
– Building depots
– Logistic centres 
– Central warehouses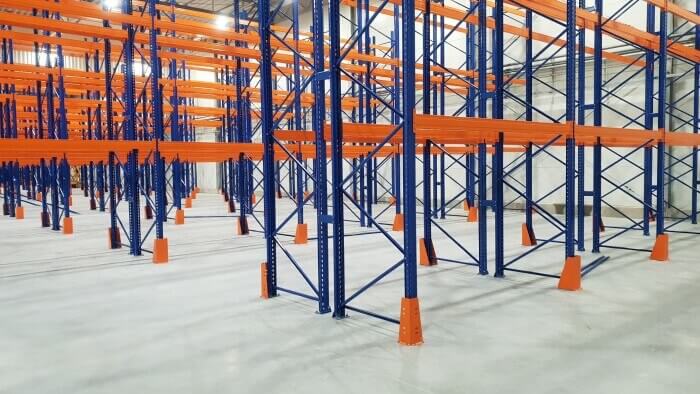 Benefits:
–  universal construction allowing for storage of various products
– use of high quality materials for production and highest standard of workmanship
– effective use of storing area
– easy inventory management
– possibility of combining with shop shelves in order to obtain an integrated shelving
Reliable 

construction
Main construction elements of pallet racking are:
* The specified maximum tonnage of frame is defined for seat height of 1500 mm and at least 4 racks in a row. In case of smaller number of racks, frame load reduction factors should be used:
for three sections in a row – 0,88;

for two sections – 0,77;

for one section – 0,66.
Wide array of 

accessories
Additional elements of racks that boost it's functionality or provide extra safety are:
–  Frame bumpers to protect the frame from accidental collision with trolleys or pallets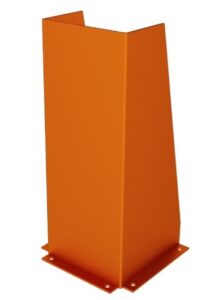 – Horizontal or vertical braces, which are used in case of high frames, they stiffen the construction and allow the placement of rack without the need of attaching it do a wall
– Trusses on traverses enabling the storage of loose assortment
– Crossbeams used in storing products along the traverses (e.g. long bars or boards)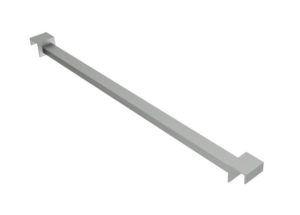 – Safety net ensuring that stored materials will not fall out outside the rack
– Wall mounts stiffen the tall rack
The highest standard
As a manufacturer of pallet racks, we guarantee the highest quality of workmanship and the safety of our racks confirmed by the German TUV certificate.
This certificate is awarded only to products that comply with European quality and safety standards.
Full service
Feel free to contact us for individual pricing and warehouse design for pallet racks. For larger orders from the factory, we offer a colour selection of individual elements from the entire RAL palette.