Gondola shelving fulfill a similar function to the wall shelving. The only difference is that they are erected as free-standing structures. Bilateral exploitation allows access to goods from both sides, while increasing to commercial services. They can be used in any way, by selecting the elements, changing them in a similar way. For example, by selecting perforated backs, we gain the possibility of installing product hangers. This solution completely changes the way the gondola works. At the customer's eye level there are nearby products (e.g. hammers), while at the level of the shelf there are accessories (e.g. nails). Another first object is the boards and crossbeams for the store shelving, and they pay off in the integration shelves, which is the first achievement in DIY stores.
Application
Gondola shelving is suitable for any type of store that can afford the space required for their installation. They are also very popular at gas stations as low racks for the presentation of food products. Here are some examples of establishments that use our shelving:
Lewiatan – storage of all food products (bread, snacks, hygiene products, etc.), newspapers, drinks, alcohol, coffee, spices and much more. In Lewiatan stores, gondolas are used in practically every department (sweets, chemicals, groceries, etc.). The elegant design perfectly presents the stored products, improving the overall visual aspect.
Auchan – presenting not only the items mentioned above, but also small household appliances / electronics, clothes, toys for children, gardening materials. Auchan stores have a wide range of products, which is why they use several different variants of store shelves. Low shop gondolas can be found in the cosmetics or household appliances / electronics department. Perforated shelves can be found in the clothes section. In Auchan stores, we also find integration shelves in the drinks section, where we have drinks at our fingertips, while on the above-placed traverses they are stored on pallets that can be quickly removed with a forklift.
Decathlon – storage of all sports clothes, bows, weights, fishing rods and many more, excluding heavier equipment such as bicycles. In Decathlon, specialized shop shelving is used, specially adapted for this purpose. The use of various types of hangers, fasteners, shelves, etc. makes it possible to store the entire available assortment.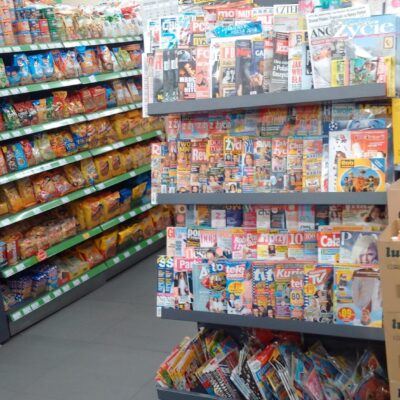 Shop gondolas with a top shelf for newspapers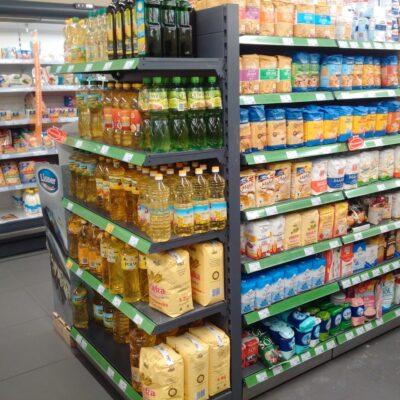 Anthracite gondola type shop shelves with gable shelf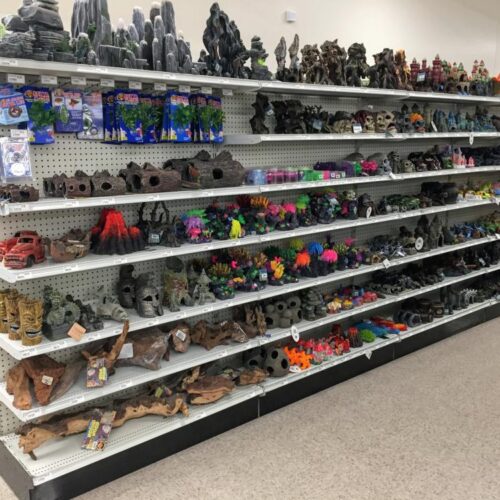 Anthracite gondola type shop shelves with gable shelf
Advantages
Simple and tested construction which quality has been confirmed by German TUV certificate 

High level of customization, allowing the adjustment of gondola shelving according to your needs.

Various shelf lengths, profile heights, plain and perforated backs, hangers with or without labels, widths and several available systems.
Possibility of converting to wall shelving
Possibility of connecting with rack system, creating integrated shelving, designed with DIY markets in mind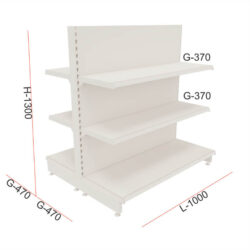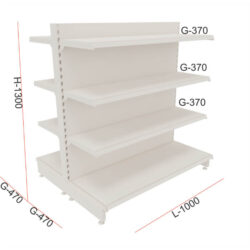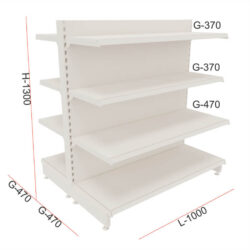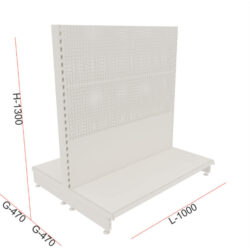 Gondolas of the G130 series are best suited to gas stations where, thanks to their low profile, they do not obstruct the view and create an "open space" effect. This allows for a better presentation of the entire range of stations that is not obscured by shop shelves.
One of our largest recipients of the G130 series gondolas are Orlen stations that prefer anthracite-coloured shelves. This colour perfectly matches the overall aesthetics of the station and is a great example of how important an important aspect of store equipment is to choose the right colour of the shelves.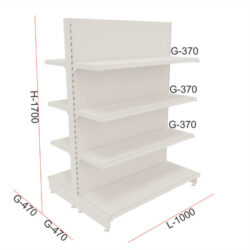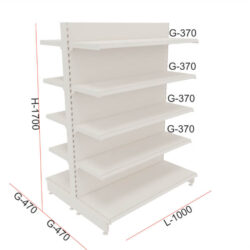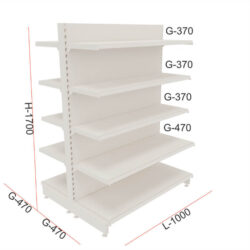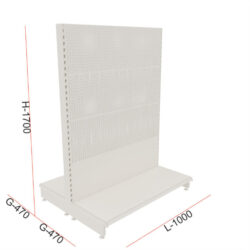 The G170 series gondolas are best suited to small grocery stores in housing estates, where the ceiling of the room is often low and does not allow the installation of higher shelves. Alternatively, they better present goods that will never be placed "too high" making it difficult for the customer to identify the product.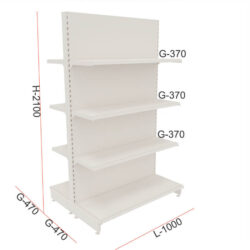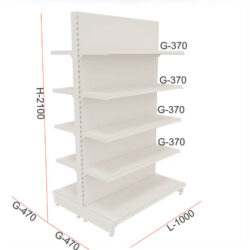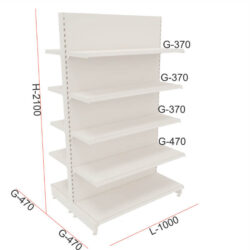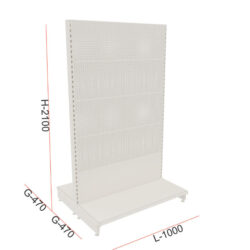 G210 series gondola shelving are perfect for larger supermarkets, where the available space is not a problem. They allow the installation of a large number of shelves that allow you to present many products at once, without worrying about too little available space.
Gondolas from the G210 series, due to their height, are used in stores such as Lewiatan, Spar, Stokrotka, Auchan and many others. There are often extensive models, the so-called Integration shelves that can not only store products at your fingertips, but also pallets on the upper level. This allows missing products to be quickly loaded on the "ground floor".
Quality and safety
All our products meet the formal requirements in terms of health and safety, fire protection. and building regulations. As a producer of shop gondolas, we guarantee the highest quality of workmanship and the safety of our shelves confirmed by the German TUV certificate.
This certificate is awarded only to products that comply with European quality and safety standards.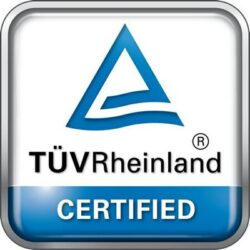 Full service
Contact us for an individual quote and store design. In case of larger orders we offer a colour selection of individual elements from the entire RAL palette.
Transport
We organize the transport of gondola shelving to any place in Poland and the EU.
Financing
We provide attractive financing of gondola shelving in the form of leasing. You do not need your own funds to finance the investment.