Cantilever racking is used in warehouses where long goods of various lengths are stored, such as: metal bars, logs, long plates, rack profiles, panels. With the addition of beams and gratings, custom pallets and packages can also be stored on long racks. The great advantage of the cantilever rack is the very high comfort of handling the goods due to its open structure. Due to the use of a structure that concentrates the entire load in the centre of the rack, it is possible to carry high loads. This allows the maximum use of the full length of the warehouse for storage. The only disadvantage of the cantilever rack is its limited height (in the case of a free-standing rack), due to the lack of front stabilization. High storage racks fulfil this role much better, as they are designed for high storage height.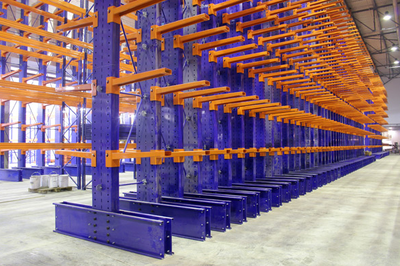 A series of cantilever racks with several levels of storage
Cantilever racking – simplicity of construction
Cantilever racking consist of a thick profile and product support brackets. It is a very simple structure that does not require any crossbeams, however the height is limited in order to maintain stability. In the case of double-sided storage on a long rack, it is important that the weight of the stored products is evenly distributed.
Cantilever racks are made of the following elements:
Base leg (base) – is the base of the rack and dictates the maximum size of the brackets, the length of which cannot exceed the length of the leg. Otherwise, there would be a chance to outweigh the structure and overturn it.
Profile (pole) – the backbone of the cantilever rack, is made of high quality-steel that can withstand high loads without the risk of cracking or bending.

Cantilever

– the most important element of the rack on which all products are stored. They are made of thick, reinforced steel that can withstand a load of up to 1,900 kg.
Bracing – they give the structure stiffness between the profiles. They play a stiffening role, which would be played by crossbeams in a pallet rack. The bracing of the cantilever racks is made of thicker steel than other storage racks.
Cantilever stop (optional) – determines to which point the products can be loaded and protects them against accidental sliding.
Stiffening hook – keeps the braces in place, preventing them from loosening and falling out.

Cantilever

bolts – Keep the brackets in place. Only one screw at the top is required as the weight of the bracket and the goods pushes the lower part against the profile.
Construction of Cantilever rack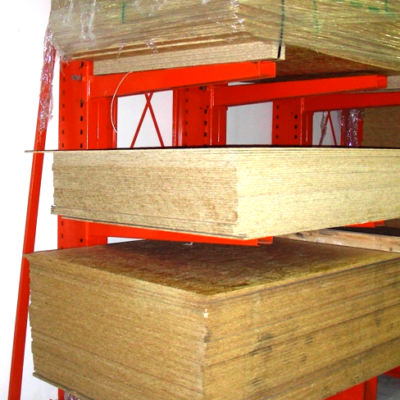 Cantilever racks for logs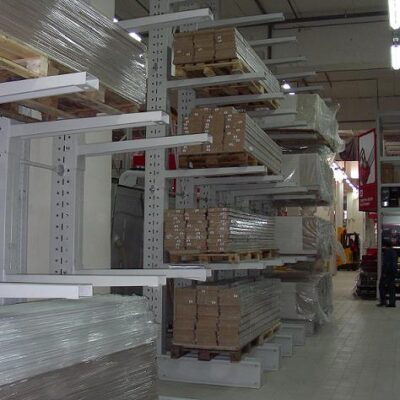 Longitudinal shelves in a construction depot
Technical parameters
The standard offer includes cantilever racks up to a height of 6.5 m. On request, we also manufacture long racks with a height of up to 12 m. Such large maximum heights are possible to achieve by welding two identical elements of a cold-rolled frame together, which greatly increases the resistance to loads and damage. The maximum load on the frames is 14,800 kg. All our frames have a perforation every 100 mm, which gives a lot of freedom in mounting brackets. Massive supports made of 3 mm or 4 mm thick steel can withstand a load of up to 1,900 kg. The longitudinal rack supports must not exceed a length of 2,100 mm. In order to increase the safety of their use, they are mounted at an angle of 3 degrees towards the frame. All components of the cantilever rack have a default colour that can be changed when ordering. Default colour: for frames and bracing – RAL 5005, for cantilevers – RAL 2008).
Below you will find two tables with dimensions and loads for frames and supports.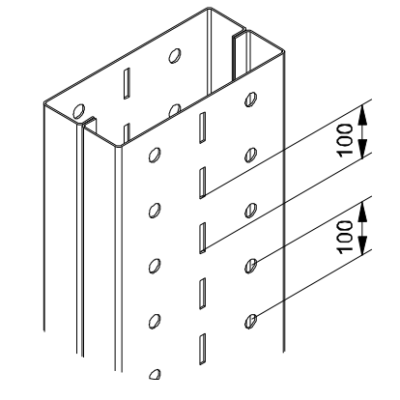 Perforation of the cantilever rack profile

Cantilever racking – bracket dimensions
(L – length, S – sheet thickness, h – height of the bracket at the profile)
L
S
h
Max. load
mm
mm
mm
kg
600
3
60
600
90
1050
120
1600
800
3
90
800
120
1250
150
1900
1000
3
90
650
120
1000
150
1400
1500
4
120
730
150
1100
1800
4
120
600
150
900
2100
4
120
500
150
750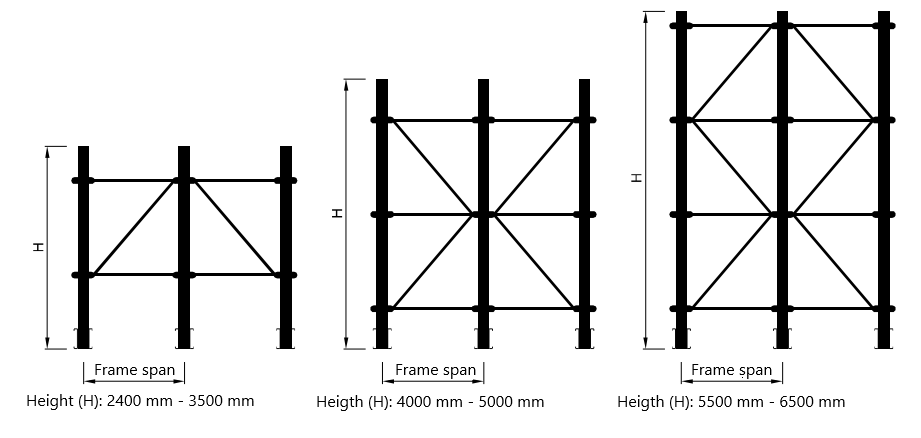 The spacing and arrangement of the braces in standard cantilever racks
Maximum load per frame in kg.
Profil (mm)
Baza (mm)
Bracket length (mm)
600
800
1000
1200
1500
1800
2100
250 x 3,0
300 x 3,0
4500
3800
3200
2800
2200
1800
1600
300 x 3,0
300 x 3,0
5400
4600
3900
3400
2700
2200
1900
350 x 3,0
300 x 3,0
6000
5100
4500
3900
3200
2600
2200
400 x 3,0
400 x 3,0
9000
7700
6300
5300
4500
3700
3100
450 x 3,0
500 x 3,0
10000
8600
7700
7000
6000
5000
4200
500 x 3,0
500 x 3,0
11100
9500
8500
7700
6500
5500
4500
400 x 4,0
400 x 4,0
12000
10200
8400
7100
6000
5200
4400
450 x 4,0
500 x 4,0
13500
11500
10200
9400
8000
6600
5600
500 x 4,0
500 x 4,0
14800
12600
11100
10300
8700
7100
6000
Cantilever racks are best used in the following facilities:
Sawmills – storage of sawn timber, processed boards (both loose and in packages), beams intended for construction, roof trusses. It is recommended to place them in a building / warehouse so that the wood does not soak up moisture. Dampness leads to an increase in the weight of wooden products, and thus may result in overloading the rack.
Building depots and stores – storage of boards for sale, non-rotating and hard pipes, storage of metal frames, chipboard, metal and aluminium profiles.
Warehouses – storage of all kinds of long products intended for distribution.
Factories – temporary storage of materials intended for shipment, e.g. rotor blades for helicopters, windmills, metal sheets.
Back-up facilities of DIY stores – PVC pipes, boards, metal pipes, building materials, etc.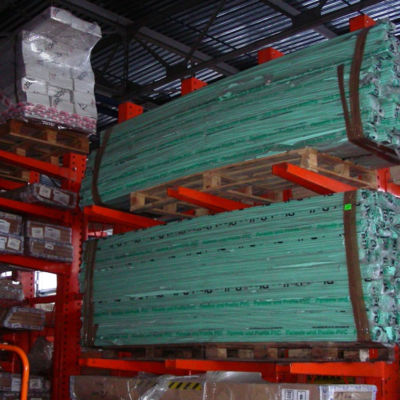 Cantilever racks loaded with logs on pallets
How to use long rack
The load must be on at least two brackets, it is allowed to exit the load along the entire length of the rack outside the bracket for a maximum of 50% of the distance between the profiles. All the weight on the supports should be evenly distributed along the support.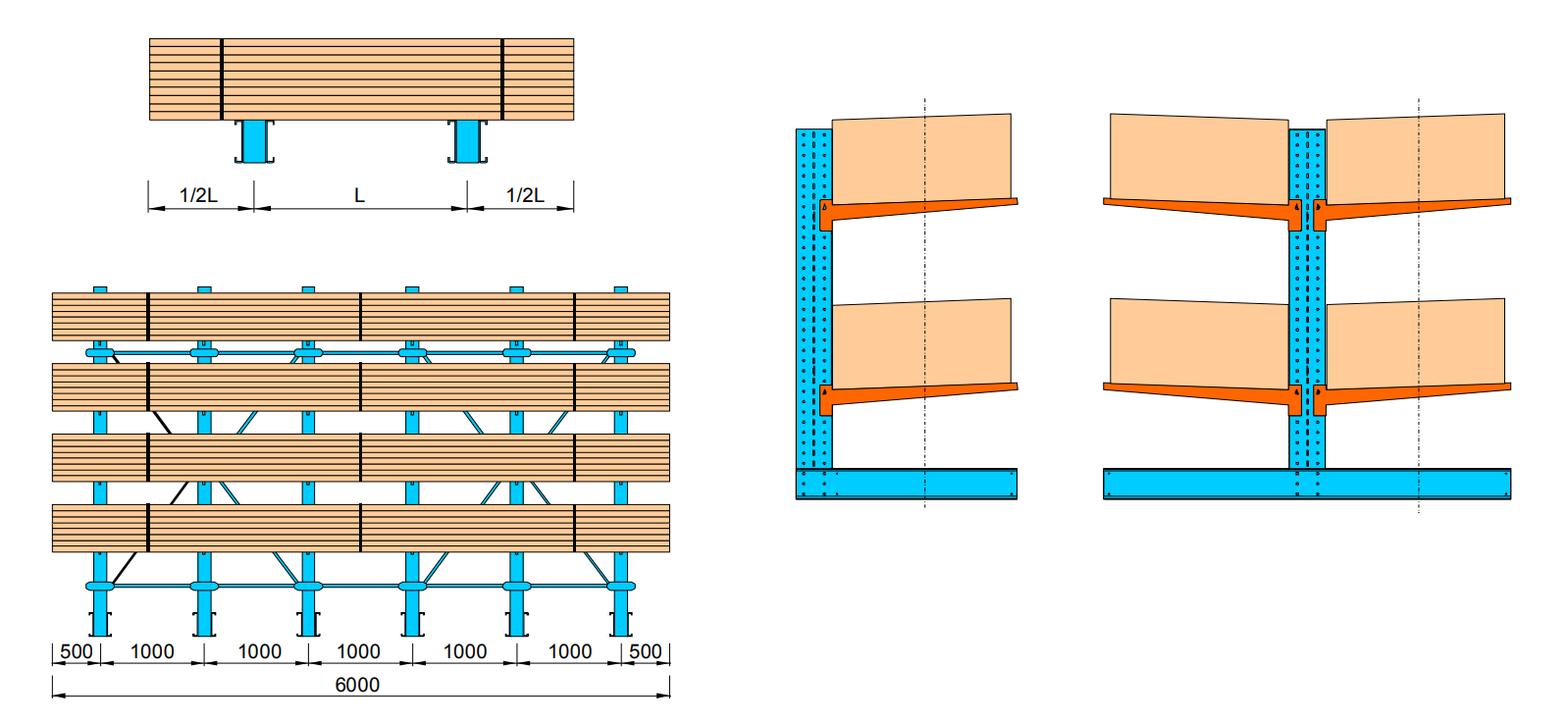 Cantilever racks – recommended use
Cantilever racks – advantages
The biggest advantages of the cantilever rack are the possibility of loading and unloading materials "from the side". This allows for the storage of goods of very different sizes and very easy access to them. This is possible thanks to the open design, where the profiles are only in the centre of the rack.
The main advantages of the cantilever rack:
The possibility of storing very long goods

High versatility – storage of non-standard pallets and goods of various dimensions and lengths

Very comfortable access to the goods (open structure without poles)

High load capacity and durability

Easy visual assessment of inventory

Reinforced profiles with increased load capacity, stiffening the structure, thus providing a high level of storage safety

One-sided or two-sided installation possible

Adjustable mounting level of the brackets

Ease of assembly and quick assembly due to the small number of elements required for assembly

The whole thing takes up less space in relation to the pallet racks

The inclination of the brackets can be adjusted

Uncomplicated, modular design

Various applications, e.g. cable reels, oversized pallets, pipes, rods, logs …

Outdoor use in hot-dip galvanized version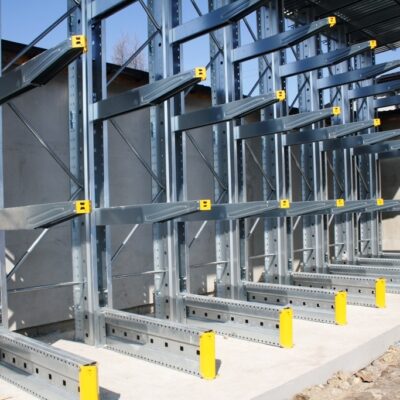 Cantilever racks – wall-mounted
Outdoor cantilever racks
When using cantilever racking outdoors, remember the following:
The floor on which we will place the long racks must be solid, e.g. concrete floor or foundation benches under the feet.

Placing the racks on cubes or other unstable ground is prohibited as it may collapse the structure.

All cantilever racks are specially prepared by applying hot-dip zinc. This increases their resistance to external conditions, but is associated with additional costs and extending the delivery time.

Additional roofing of external shelves is associated with an increased risk of their instability during intense winds. For this reason, we do not recommend this solution for outdoor shelving. We can only recommend external suppliers of such a roof, but outside the scope of our delivery.

Products stored outdoors may become wet or snow may fall on them. This can lead to an overload of the long rack, if we do not leave the "buffer" of the load.

The floor on which the cantilever racks are installed should be monitored for cracks that could affect the fixing of these racks to the ground.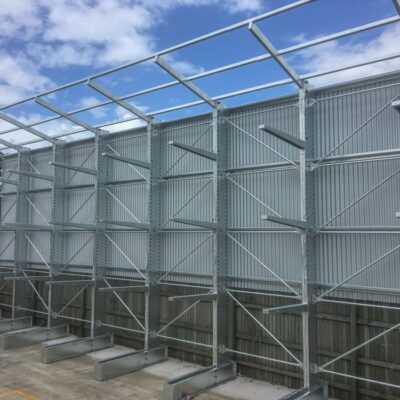 External cantilever racks – hot-dip galvanized
Rubber bumpers
They are mounted on legs and brackets to protect the rack and staff from accidental collisions. Instead of potential dents in a metal bracket or a leg, we get a damaged bumper, which is much cheaper to replace.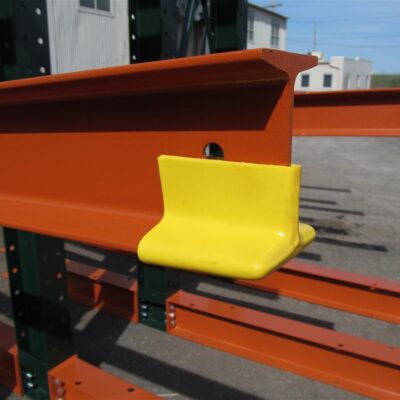 Protective rubber bumpers for crossbeams for cantilever racks
Front foot bumpers
Bumpers to protect the legs against collisions with forklifts and other vehicles. This provides additional protection against tipping over or damaging key structural elements of the cantilever rack.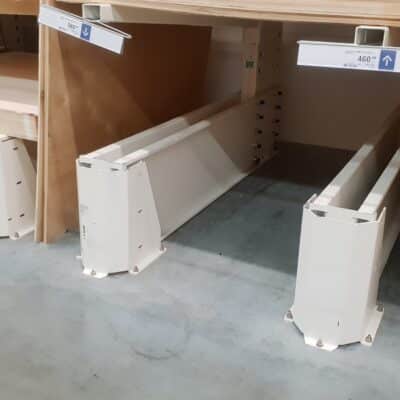 Lattice shelves
They are used as a filling that allows to transform the storage levels of the cantilever rack for logs to the level for loose products. This allows you to personalize the shelf by, for example, allocating two lower levels for logs and the remaining ones for loose materials.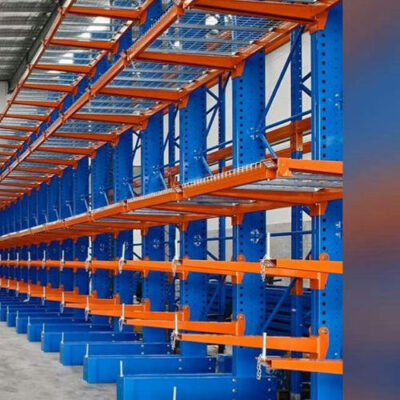 Cantilever racks with levels for logs and general cargo on grid shelves
Crossbeams
They are used to convert a cantilever rack into a pallet rack, giving you more storage options. For example, you can create a hybrid warehouse based on cantilever racks – the first three levels are dedicated to logs and the rest to pallets. In addition, the beams improve the overall stability of the storage rack frames and thus the overall structure.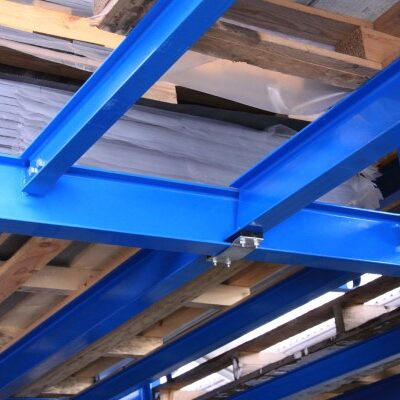 Crossbeams for cantilever racks
Roller grips
They allow for hanging rolls, spools and all round goods on the cantilever rack, and at the same time enabling their possible unfolding. These types of grips are available in several variants, allowing for the installation of various lengths of rolls.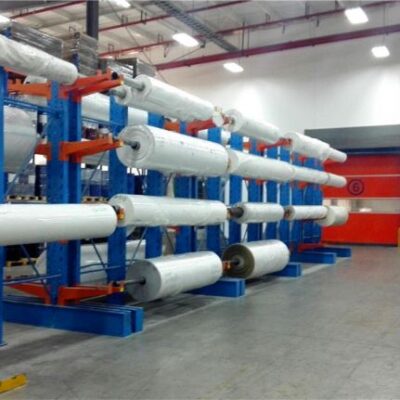 Roll holders for cantilever racks
The highest standard
The use of the highest quality steel and high production standards have resulted in the fact that our cantilever racks have obtained the German TUV certificate, which proves the professional performance of our cantilever racks.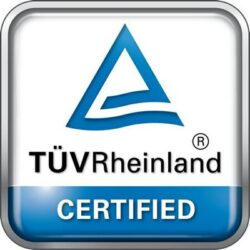 Full service
Feel free to contact us for individual pricing and warehouse design with the use of cantilever racks. If you have any questions, please contact our sales department, who will answer your questions.
Transport
We organize the transport of cantilever racks to any place in Poland and the EU.
Financing
We provide attractive financing of longitudinal shelves in the form of leasing. You do not need your own funds to finance the investment.
Similar warehouse rack systems
Warehouse racks for facilities where goods are stored mainly on standard pallets. A wide range of various profiles, crossbeams and accessories allows for personalized equipment of each warehouse.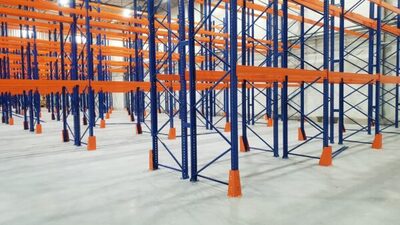 Storage racks adapted to the storage of materials at high altitudes. They make the most of the available space in warehouses.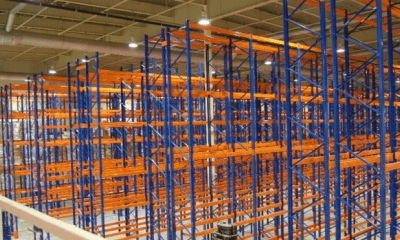 High storage racks for pallets
Increase your warehouse space or create a completely new, additional space for workstations or for packaging goods. Quickly and without formalities, gain an additional utility level or even several such levels in your current warehouse. Choose according to your needs: a shelf mezzanine, a mezzanine based on pallet racks or a storage platform.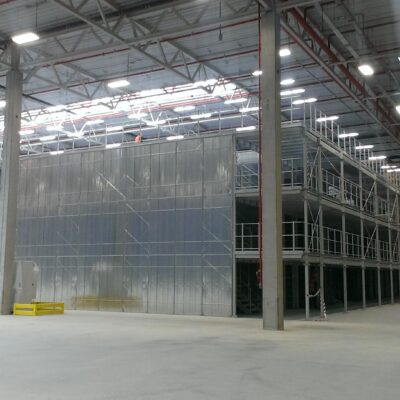 Storage mezzanines – shelves with side mesh
Frequently asked question