Shopping carts are a necessary equipment for every store with a wide range of goods. The possibility of comfortable and as easy transport of selected items as possible is very important for customers, as it allows them to make larger purchases, which translates into greater profits for the store.
In our offer of shopping trolleys you will find two different series – KMK and MEC.
Order directly from the shopping trolley manufacturer!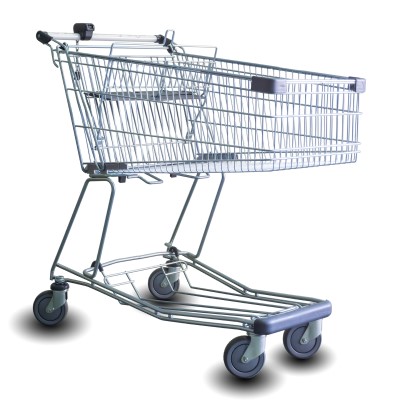 KMK 130 shopping cart with lower shelf
Shopping cart – dimensions and volume
As a manufacturer of trolleys, we are able to offer our customers many models with different dimensions, and thus volumes. Our shopping carts can be divided into three categories. One of these categories includes, for example, the MEC 60 small shopping trolley, which is considered by our customers as one of the most universal.
small shopping trolley (e.g. MEC 60 and MEC 80) – intended mainly for small and medium-sized supermarkets. Due to their small dimensions, they are easy to control in narrow alleys, do not take up much space and are easy to park in lines for storage (so-called "nesting").
medium shopping trolley (e.g. MEC 125 and KMK 150) – they are used in medium and large stores. They combine small dimensions with a large capacity of the basket for a wide range of products.
large shopping trolley (e.g. MEC 210 and KMK 180) – ideal for supermarkets. Large capacity means large dimensions. This means that carts in this category should not be used in small shops where there is simply not enough space. In supermarkets, they work phenomenally because they allow you to load purchases for the whole family in one common basket for the entire week.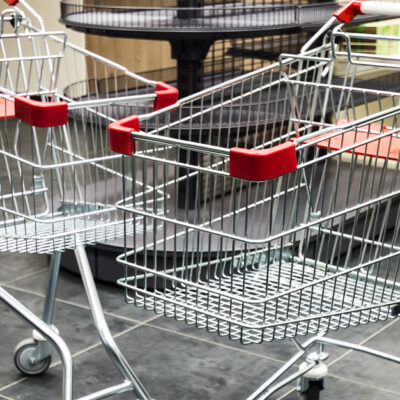 MEC 60 and MEC 80 shopping cart
Rest of shopping carts dimensions
Characteristics
All our carts, regardless of the series and model, have the following features:

Reliable wheels with ball bearings from the German company TENTE

Reinforced undercarriage

Standard baby seat

Possibility to install wheels with

travellation

or brake

Various types of shopping cart basket capacity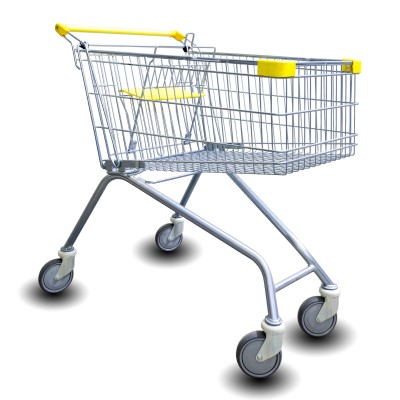 Protective coating
One of the features of the production of Kifato MK shopping trolleys is the use of a modern production line for electroplating. The technologies used give the products a high-quality protective coating and ensure an extended life of the trolleys, giving them aesthetics and a beautiful appearance.
An additional layer of sprayed polyester varnish further increases the mechanical and chemical resistance of the trolleys, especially those stored outside. Polyester varnish is resistant to UV radiation, it is also not sensitive to weather conditions, therefore it can be successfully used for covering shopping carts. Automation of the varnishing process ensures the best application of the polyester protective layer, which translates into its durability, high protection and aesthetic value.
Thanks to the simultaneous use of galvanization and a protective layer of polyester, Kifato MK metal shopping carts are extremely resistant to corrosion.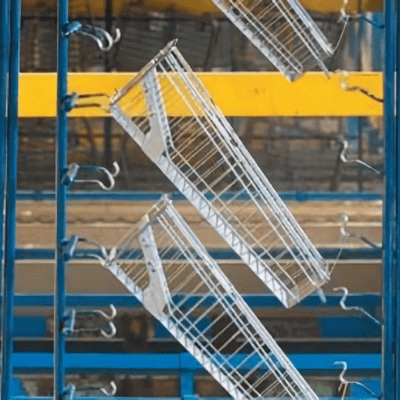 Shopping cart baskets after galvanization process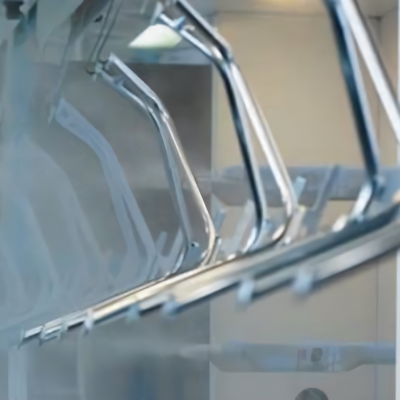 Shopping cart covered in protective coating of poliester
Parking the trolleys
Regular shopping carts can take up a lot of space and parking them in designated and often confined spaces can be quite a hassle. This was a problem that we as manufacturer of shopping carts had under constant observation while designing our products. Thanks to this, we were able to develop a trolley structure that allows you to store many trolleys in one row without problems, while maintaining the minimum distances. This is the so-called "Nesting" which allows you to arrange any number of trolleys in a row, without wasting any space. Vehicle handles are almost in contact, ensuring 100% use of space combined with zero risk of mechanical damage caused by rubbing between plastic and metal elements.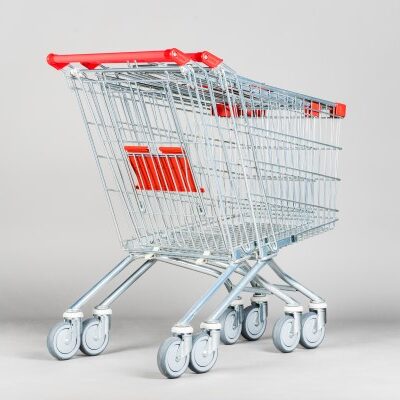 Colours of shopping trolleys
All shopping trolleys in the standard offer have red or anthracite plastic elements and handles. The metal wire structure is galvanized and clear lacquered with polyester.
On special orders, however, we also offer non-standard colours of all plastic elements in shopping carts and the metal basket itself. Despite the very attractive appearance of a coloured metal trolley, it should be remembered that painting the basket is detrimental to its durability. The coloured coating of the powder paint replaces the galvanization, which translates into a reduction in the corrosion resistance of the trolley. Additionally, the paint coating is more susceptible to damage and mechanical abrasions.
Logo on the handle of the cart
When ordering from the factory, we offer you to put any logo in the handle, without any additional fees, and to choose from a wide range of colours of plastic elements and the handle. After sending the design, our graphic designer will adjust it so that the logo best matches the selected colour of the shopping trolley.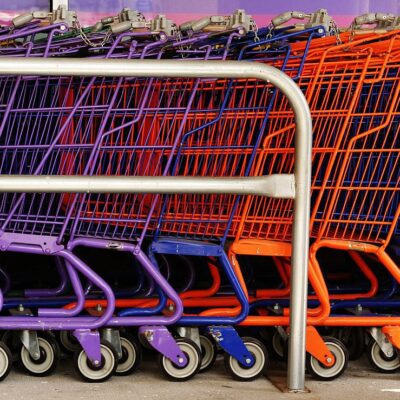 KMK shopping carts are designed on wire base, they are one of the most popular products from Kifato on European market. Wired stand with additional platform provide space for a packet of beverages, a cardboard box and even a small sized electronic device.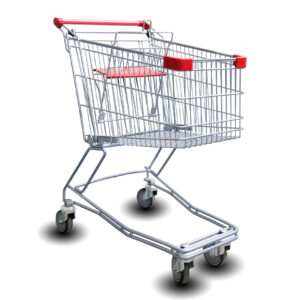 MEC series shopping carts are designed to provide maximum comfort of usage with affordable price. That goal was achieved by replacing bottom shelf with durable round tubes, reducing weight while also increasing overall manoeuvrability.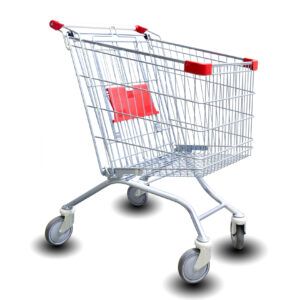 Shopping carts – accessories
In addition, all shopping trolleys can be equipped with additional accessories or the existing elements can be replaced with their alternative equivalents. The most frequently chosen accessories are those produced by the reputable company Systec, which prides itself on the high standard of its products.
Such accessories and equivalents include, among others:
Wire partition
It allows for better segregation of products. Very useful when you do not want loose, heavy drinks or cartons to crush delicate products such as eggs, sweets, yogurts.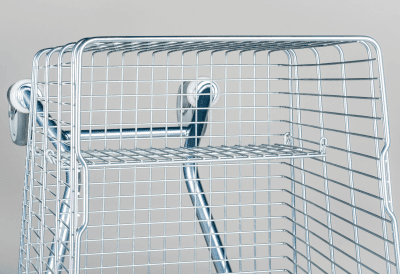 Wire partitioning for shopping cart basket
Basket for a baby carrier
A special modification of the handle, thanks to which the shopping carts can conveniently carry the carrier with a child, which allows customers such as parents with small children for easier and comfortable shopping.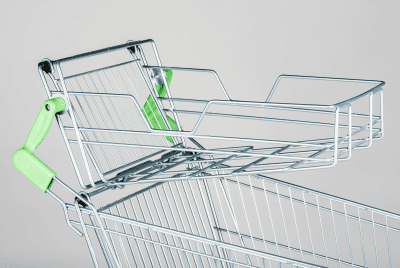 Basket for baby carrier mounted on handle
Coin lock
It allows you to secure shopping carts against theft, ensuring greater security of storage. We offer locks for zlotys and euros.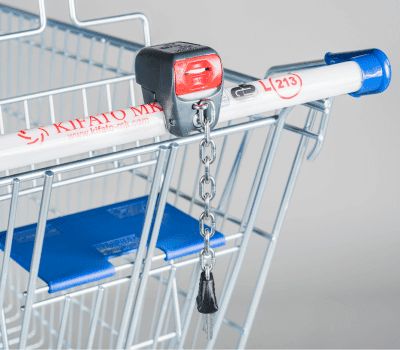 Coin lock with advertising
A variation of an ordinary lock with one significant difference in construction. In this solution, the entire handle of the trolley functions as a lock, which allows the presentation of any advertisement, e.g. product promotion or sale.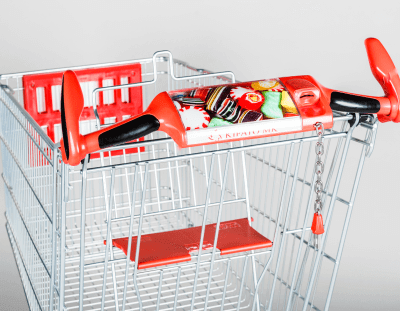 Integrated coin lock with advertisement
Chains
They are the inseparable partner of coin locks, they protect the trolley from potential theft. Solid workmanship combined with high-class metal guarantee that no one will be able to cut it.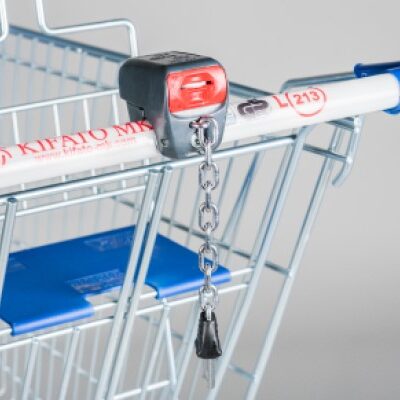 Frame for advertising / promotions
They are mounted on the front of a shopping trolley to present a promotion that takes place in a store or to advertise products.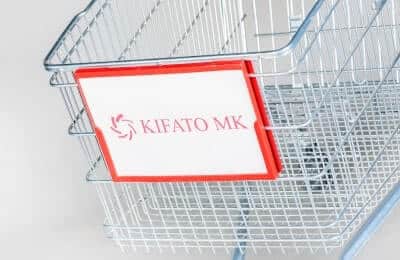 Wheels with travelation
They are intended for mounting in shopping carts that are to be compatible with escalators equipped with magnets. A trolley with such wheels, after entering the stairs, adheres solidly to the surface, thanks to which it will not slide down under its own weight. Even a heavily loaded shopping cart will not roll off by itself.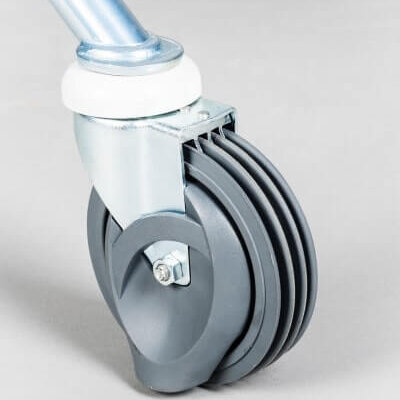 Wheels with a brake
Brakes are very useful for larger shopping carts where significant loads are expected. Their purpose is to exclude the possibility of uncontrolled movement of the trolley, so that it cannot leave, e.g. in a parking lot, hitting a car, or slide down an escalator not adapted to traverse.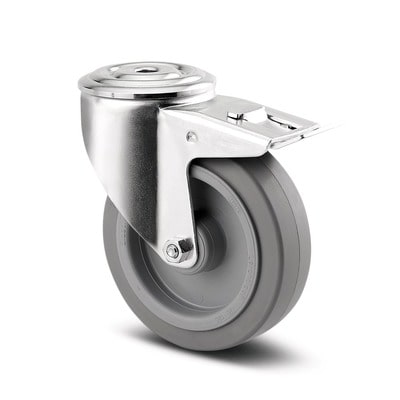 Shopping cart wheels with breaks
Lateral information plate
The signs convey a lot of useful information, such as: "attention of a disabled person", "attention of a child", the maximum load capacity of a shopping trolley and much more. Each plate is prepared individually for the reported needs of the customer.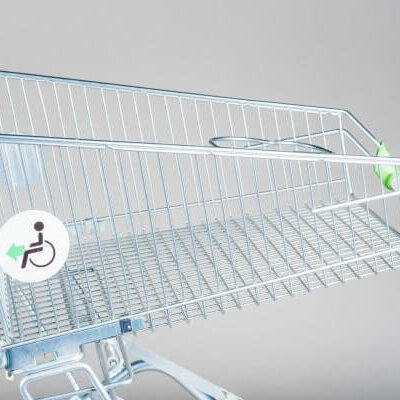 Front bumpers
They are used to protect the pipes at the bottom of the shopping cart from mechanical damage. Bumpers are very useful when you plan to store carts in lines.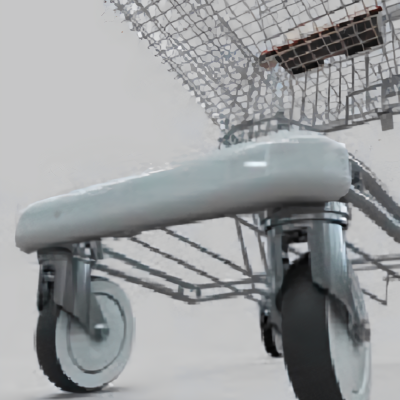 Protective front bumpers for KMK series
Side covers
They protect the metal elements of a shopping trolley against dents and damage in the event of a collision with a shelf or other trolley. The color of the plastic cover can be selected by the customer.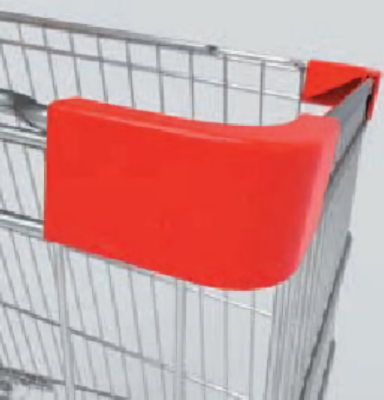 Hooks
You can hang a handbag, backpack or even a jacket on them to relieve the tired body. This translates into greater shopping comfort for customers.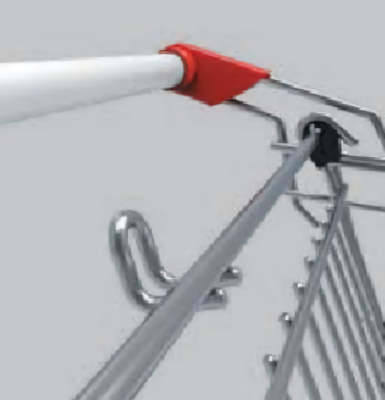 Noise reduction covers
They are designed to reduce the noise caused by metal hitting metal when moving a shopping cart. Additionally, they protect metal elements against bending.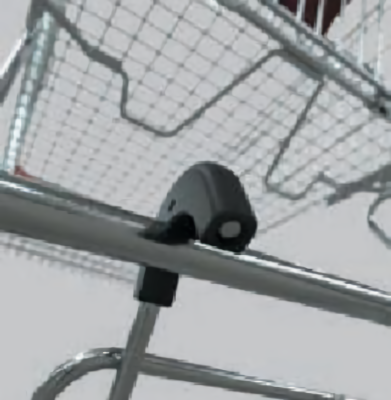 Places for a child
We offer two types of child seats that can be mounted on shopping carts. The first type are the seats that allow a child (or two children if we choose the double seat option) to sit inside the cart. The second type are chairs mounted on a handle (there is a double option right here). Thanks to this solution, the child is facing us while shopping.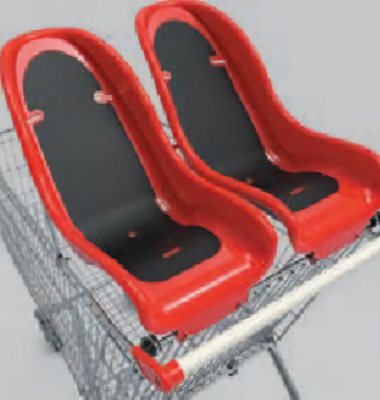 Flags
They are a decorative element on which we can place the store's logo. They are extremely useful for prams, as they allow you to easily see where the child is currently located.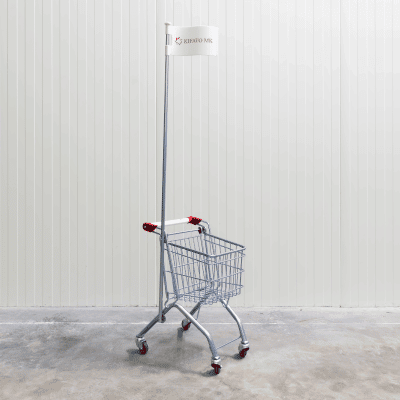 MEC 15 Shopping cart with flag
Bottom shelf
It is present only in the KMK model shopping trolleys and is used for transporting packets of drinks or small size electrical devices. It increases the overall comfort of use and increases the available storage capacity of goods, without increasing the dimensions of the trolley.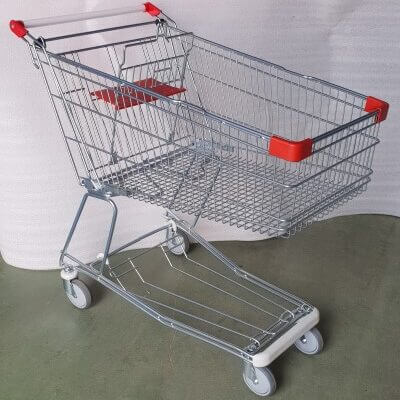 Bottom shelf for KMK series
Servicing of shopping carts
Despite the high strength of our shopping carts, some plastic or metal parts may become damaged over the years. Most often it is the result of a collision or other mechanical impact. In this case, we provide a full range of spare parts that are constantly available in our warehouses. Our service technicians have extensive practical experience. This allows you to quickly bring the damaged trolley to full working order. By supplying shopping carts to our customers for many years, we offer full warranty and post-warranty service. The service is provided on the basis of concluded long-term contracts or ad hoc orders.

Shopping carts after renovation
Technical Inspection Association certificate
It is awarded only to products that meet the strict requirements of the German Technical Inspection Association. They guarantee the highest quality of our shopping trolleys.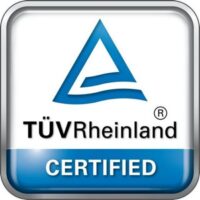 Financing
We provide attractive financing of shopping carts in the form of leasing. You do not need your own funds to finance the investment.
Transport
We organize the transport of shopping carts to any place in Poland and the EU.
Frequently asked questions