We offer shelf racks in versions for warehouses and storage of medium and heavy loads (heavy MR and HR racks) and light manual goods (SMK light racks). Warehouse shelf racks are also intended for use in wholesalers, archives, store back-up facilities, or companies selling goods online with manual packaging. As a manufacturer of metal warehouse racks, we are able to provide system racks for the storage of heavy loads and very high load capacity up to 5,600 kg per shelf, high-bay shelf racks up to 10 m high, as well as light shelf racks, when relatively light loads from 125 up to 375 kg per shelf are stored, e.g. documents in binders or small goods. Our offer of fixed frame racks is completed with tire racks. We offer a variety of shelf depths from 30 to 155 cm and the width of shelves in the range of 105 to 300 cm, so each customer will find among our products a professional warehouse shelf rack, exactly tailored to his needs and financial capabilities. All our warehouse racks are system products, they can be connected in series into single or double rack lines or they can be used to build multi-level warehouse mezzanines.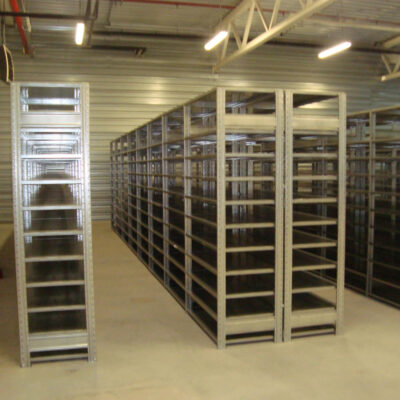 The solutions we use allow us to obtain up to 4 times larger storage space. System shelf racks that we provide can be very easily extended or disassembled and moved to another warehouse. The production also includes various accessories, shelves fillings and protection of shelves, goods and personnel. We supply shelf racks in both galvanized and powder coated versions in various RAL colours. The colours are agreed at the stage of preparing the technical design and commercial offer. All the shelves we offer are products for professional use, with the TUV certificate, which have been used for many years by thousands of companies in Poland. Their high quality has been recognized especially in sectors requiring high reliability, safety and durability. As a manufacturer of shelf racks, we are one of the few on the market able to offer our customers high quality at an affordable price.
Application
Easy access to all stored products and materials, such as: tools, car parts, food, cartons and packed products makes metal shelf racks an ideal choice for objects that focus on manual load handling on the rack. Such facilities include, among others:
warehouses

archive

workshops

wholesalers

libraries

backroom of shops

catering facilities
Shelf racks are the simplest and most universal choice of customers. However, in our offer you will also find other specialized storage racks that can fulfil the storage tasks much better. These specialized warehouse racks include: archival racks, pallet racks, high bay racks and cantilever racks. Alternatively, if the customer expects fully comfortable manual access to the highest shelves of the rack, we can also provide storage mezzanines based on various types of shelf racks. The use of a storage mezzanine, instead of a shelf rack, allows you to completely eliminate the need for ladders by warehouse users.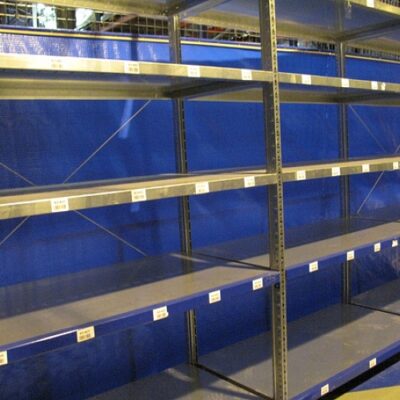 Benefits
The biggest advantage of shelf racks is the possibility of installation in all types of warehouses, combined with low purchase costs. This is due to the universal design of the rack, which can be modified in any way at your own discretion.
Simple construction
The components of the racks are:
frame

shelfs

bracing (to provide stiffness for taller frames)

anchors

optional traverses
All of the above-mentioned elements have different sizes and recommended loads, that is why the selection of the appropriate rack should not be a problem.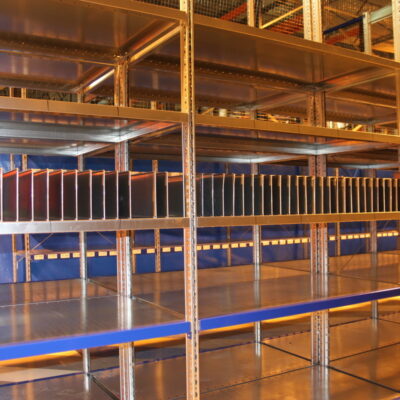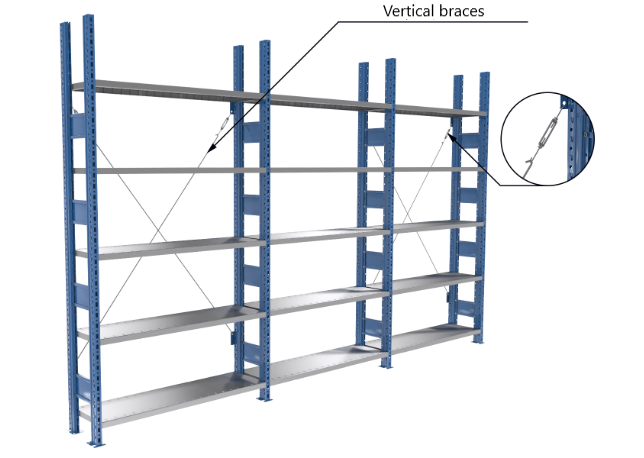 Shelf rack with vertical braces
Three variants
At the moment, we have 3 types of racks in our offer:
lightweight shelving

heavy duty shelving

tyre shelving
Lightweight shelving
In our offer of warehouse racks you will find shelf racks for light loads, i.e. the SMK system. The SMK metal shelving system is also used in the case of warehouse mezzanines, where it is used as the main structural element of the shelf mezzanines. Despite the name "light", this type of system rack can withstand loads of up to 5,000 kg per rack and up to 375 kg per shelf. It is possible thanks to the use of durable shelves and galvanized steel frames, the height of which can be up to 10 m.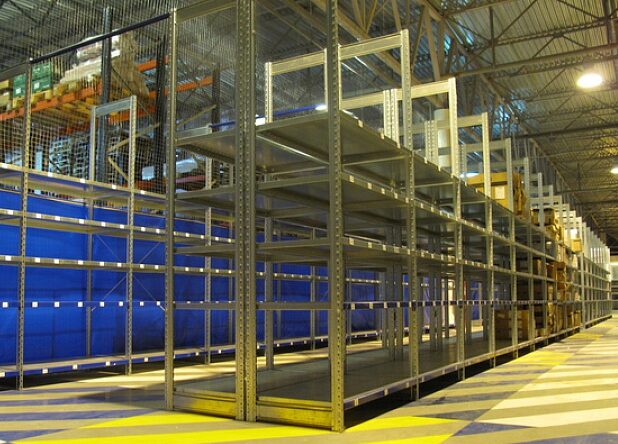 Light shelf rack in sequence
Available dimensions of SMK light shelf racks:
Frame height from 185 cm to 980 cm

Shelving depth from 30 cm to 70 cm

The width of the bookcase: 105 cm, 125 cm, 135 cm

Perforation every 5 cm

Maximum shelf load: 375 kg

Maximum section load: 5000 kg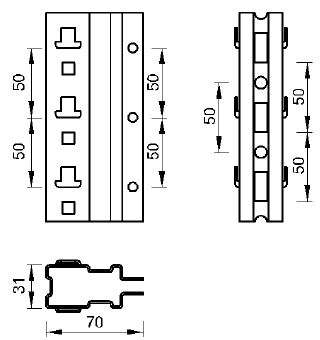 Structure feet and frames rack SMK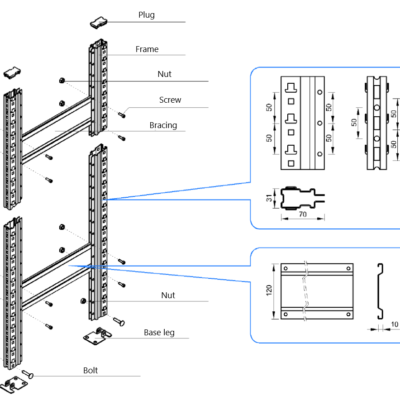 Construction of the frame of the SMK shelf rack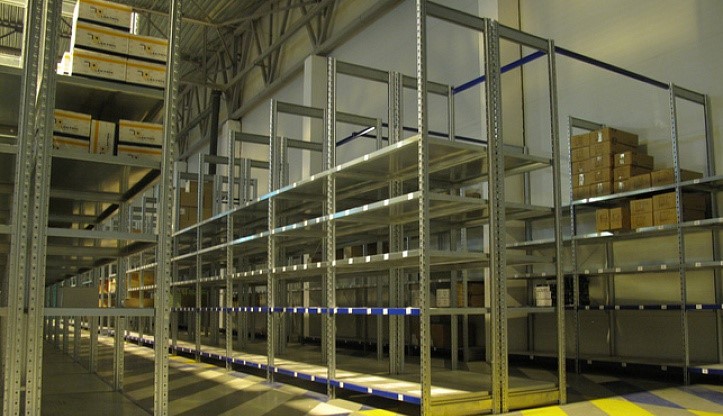 Fire protection

shelf
The shelves in the fire-resistant version are used to store flammable materials. Thanks to their perforated structure and the use of reinforced steel, they have extended resistance to fire and allow water to move to the lower levels of the shelf rack during a fire. This gives more valuable time to extinguish a potential fire and increases the effectiveness of the extinguishing action.
Chipboard
Chipboard is used to store goods weighing up to 375 kg per shelf. It is possible thanks to special reinforced Z-beams and crossbeams.
Shelf divisions
The divisions for the shelves of the warehouse shelves are used to sort separate types of products. They can be mounted on one side from the bottom of the shelf, or on both sides from the bottom and top. Shelf divisions are available in several different heights, e.g. 100 mm, 175 mm, 275 mm. They are made of light, thin sheet metal with a thickness of 1 mm, so they do not affect the maximum load capacity of the shelf and rack.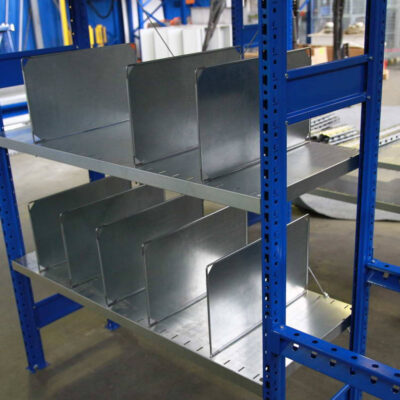 Graduations for shelf racks
Drawers
Drawers in shelf racks are used to store small, often expensive products that could be easily damaged by unintentionally pushing them off the shelf onto the floor. Drawers not only increase the comfort of use, but also offer additional usable space in relation to ordinary shelves (the possibility of using up to four drawers instead of one shelf). Products that are recommended to be stored in drawers include, for example, glass bottles and containers, electronic parts, computer components, cosmetics.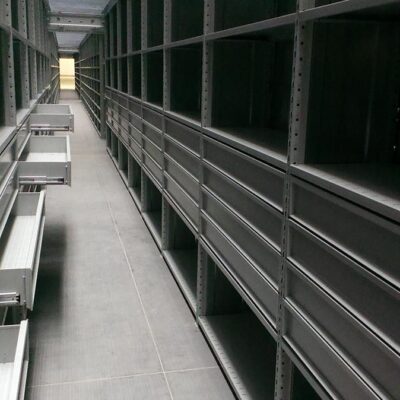 Plastic containers
They perform a similar function to drawers – they conveniently store all the small items. However, they do this for a lower cost, at the cost of less space.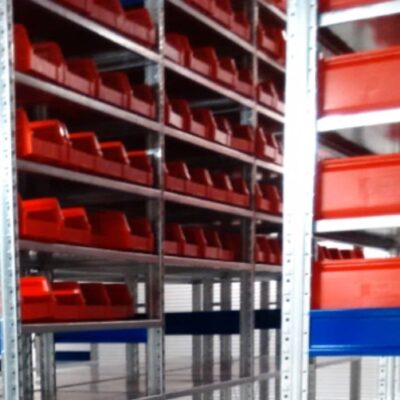 Plastic containers for shelf racks
Side bumpers
They are used to protect the racks against collision with forklifts or pallet trucks.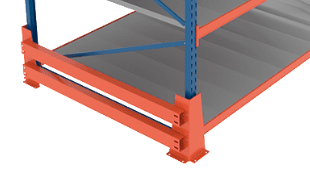 Side bumpers for shelf racks
Heavy shelf racks
The heavy shelf racks include the MR and HR series, which are also used in integration racks. Thanks to the use of thicker profiles and crossbeams for the installation of shelves, these systems can carry much greater loads. The lifting capacity for the MR system is up to 5,000 kg per section and up to 960 kg per level (shelf). The HR system can carry even greater loads, the weight of which can be up to 16,200 kg per section and up to 5,600 kg per level (shelf). Heavy shelf racks in the HR and MR system can be easily converted into integrated racks or storage mezzanines, which gives them a high level of personalization and facilitates possible subsequent sale. An additional advantage of heavy shelf racks is the possibility of storing pallets on crossbeams, which normally form the basis for the shelves. Thanks to this, we can store loose and palletized products together.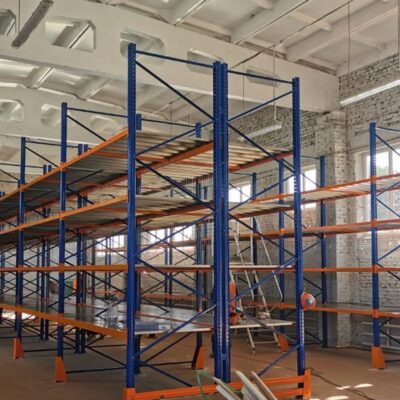 Heavy shelf rack in the HR system
Standard dimensions of the MR system
Rack (profile) height:
2200 mm; 2600 mm; 3000 mm; 3600 mm; 4500 mm; 5000 mm
Rack length modules in the light between the legs:
1250 mm; 1330 mm; 2000 mm; 2500 mm; 2660 mm; 2730 mm; 3000 mm
Shelf depth:
600 mm; 700 mm; 800 mm; 950 mm; 1150 mm; 1350 mm; 1,550 mm
Maximum load per frame:
5000 kg
Maximum load per shelf / level:
960 kg
Foot dimensions:
Width -> 55 mm
Length -> 40 mm
Perforation every 50 mm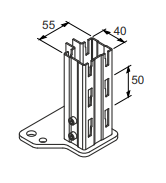 Base leg for MR shelf racks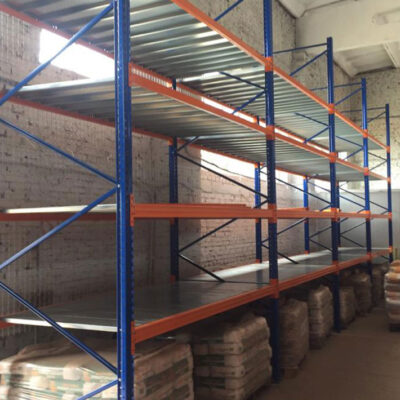 Standard dimensions of the HR system
Rack (profile) height:
2000 mm; 2500 mm; 3000 mm; 3600 mm; 4500 mm; 5100 mm; 5500 mm
Rack length modules in the light between the legs:
1250 mm; 1330 mm; 2000 mm; 2500 mm; 2660 mm; 2730 mm; 3000 mm
Shelf depth:
850 mm; 1050 mm; 1150 mm
Maximum load per frame:
16,200 kg
Maximum load per shelf / level:
5,600 kg
Foot dimensions:
Width -> 70 mm
Length -> 80 mm
Perforation every 50 mm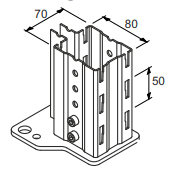 Base leg for HR shelf racks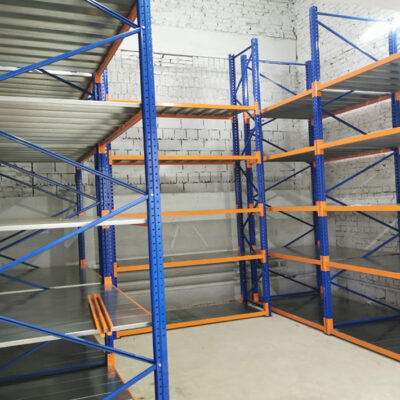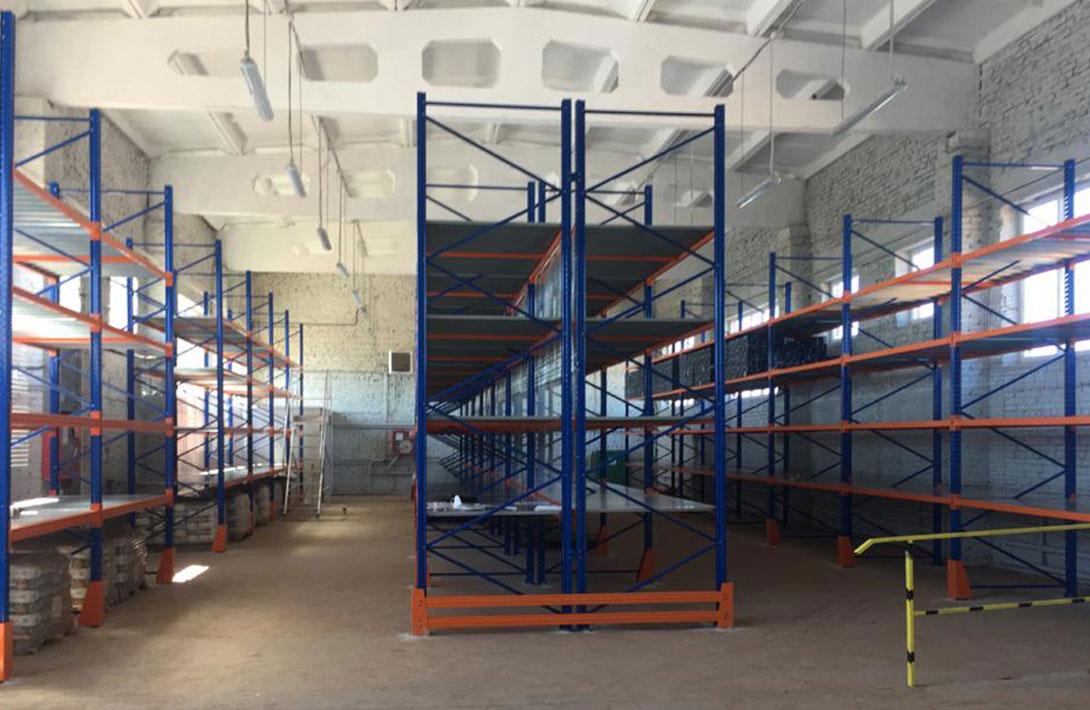 HR shelf racks in a small warehouse
Quality and safety
The use of the highest quality steel and high production standards have resulted in the fact that our racks have obtained the German TUV certificate, which proves the professional manufacture of our shelf racks.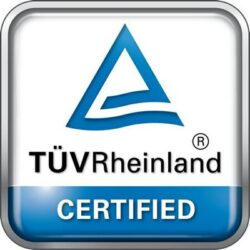 Full service
Feel free to contact us for individual pricing and warehouse design for pallet racks. For larger orders from the factory, we offer a color selection of individual elements from the entire RAL palette.
Financing
We provide attractive financing of shelf racks in the form of leasing. You do not need your own funds to finance the investment.
Transport
We organize the transport of shelf racks to any place in Poland and the EU.
Frequently asked questions