Storage racks with shelving are a combination of a shop rack with a handy warehouse located directly above it. Racks with integration are perfect for facilities offering construction, renovation and interior design products. Racks of this type are most often used in stores and construction depots as well as home and garden furnishing companies. That is why they are often called construction racks. Racks with integration allow you to create an excellent display of the goods sold, using the high adaptability of store shelves, and at the same time to store surplus goods in the handy warehouse located above. As a manufacturer of integration shelves for DIY stores, we are able to provide a wide range of integration options, as well as all standard and optional accessories on request.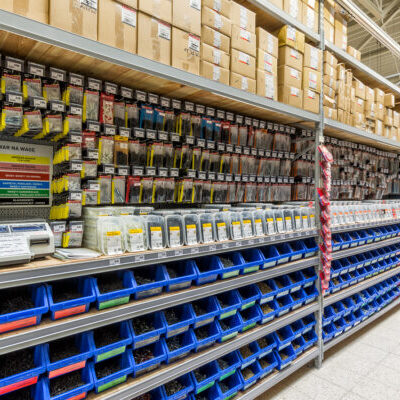 Integration racks in MR system
Construction of a rack with integration
Customer zone
The first is the "ground floor", consisting of specially designed shop shelves. It is a customer zone with products that fit into the basket of a warehouse or shopping cart. This area can store power tools, garden equipment, light building materials, lighting and much more.
Handy warehouse zone
The second element of the integrated rack is the "upstairs" part, which consists of pallet racks for storing lighted products or larger items. This gives the possibility to quickly supplement the assortment by downloading the pallet.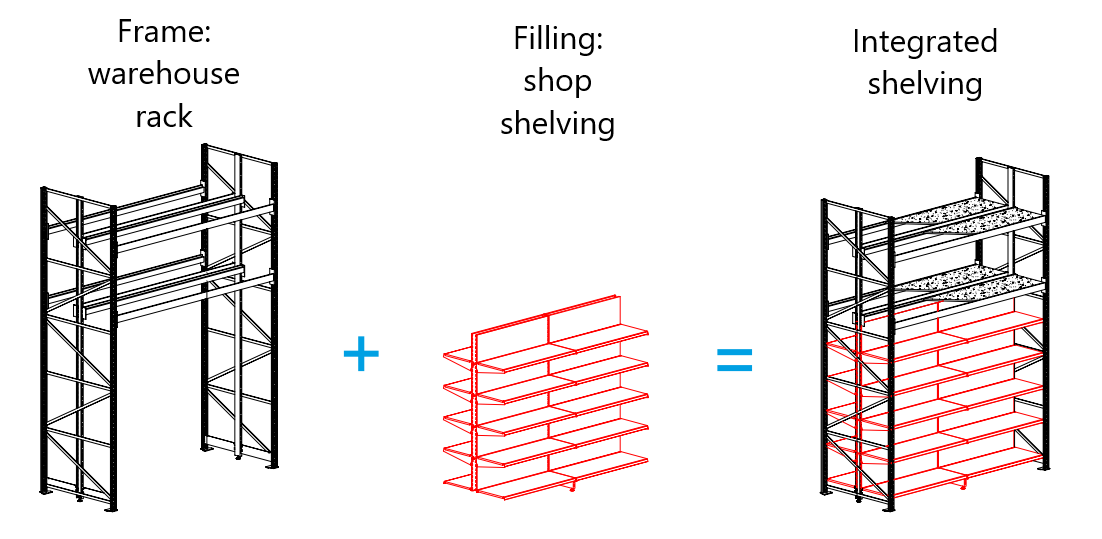 Construction of integrated shelving – sketch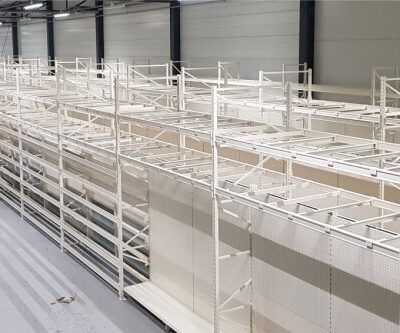 Integration racks during assembly
MR and HR systems
The HR and MR systems of integrated racks are used to store medium and heavy loads in warehouses and construction stores. When used in building depots, the upper floors are equipped with crossbeams for holding pallets, while the lower section is equipped with shop shelves allowing for the presentation of products.
MR system
The "lighter" version of the integrated rack, the Mini Rack (MR) system, is used to store boxed, loose products on shelves. Mini Rack racks are mainly used for medium loads as they cannot support a weight (on a pallet crossbeam) greater than 960 kg when configured with shop racks. In the case of a configuration with only traverses, the maximum load capacity per frame is as much as 5 000 kg. The biggest advantages of the MR integrated system are versatility, ease of modification, low price, simple structure and quick assembly. Racks with MR integration are recommended as racks for smaller and medium-sized DIY stores.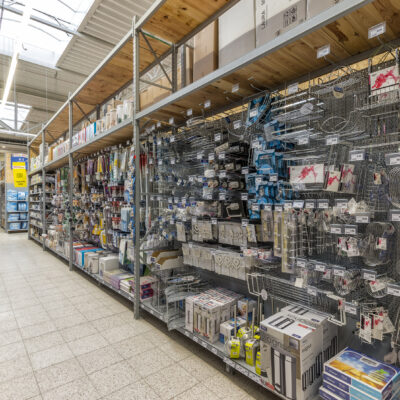 Integration shelving in the MR system
Standard dimensions of the MR integration system Rack:
Height:
2200 mm; 2600 mm; 3000 mm; 3600 mm; 4500 mm; 5000 mm
Rack length modules in the light between the legs:
1250 mm; 1330 mm; 2000 mm; 2500 mm; 2660 mm; 2730 mm; 3000 mm
Shelving depth:
600 mm; 700 mm; 800 mm; 950 mm; 1150 mm; 1350 mm; 1,550 mm
Maximum load per frame:
950 kg -> base from a shop rack and a floor with crossbeams
5000 kg -> all with crossbeams
Foot dimensions:
Width -> 55 mm
Length -> 40 mm
Perforation every 50 mm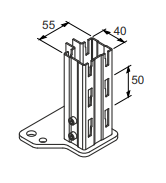 The foot of the MR system integration rack
HR system
The High Rack (HR) system of integrated racks is intended for the storage of heavy loads, which can amount to 16 200 kg per frame, in the case of a configuration consisting of only traverses. When configured with shop shelving, the maximum load on the upper crossbeams may be a maximum of 5 600 kg per frame. This allows for convenient storage of products at the level of store shelves, which can then be refilled from pallets stored on the upper levels. This solution allows for a very easy organization of a warehouse or commercial space of a construction warehouse. Racks with HR integration are recommended as racks for large stores and construction depots.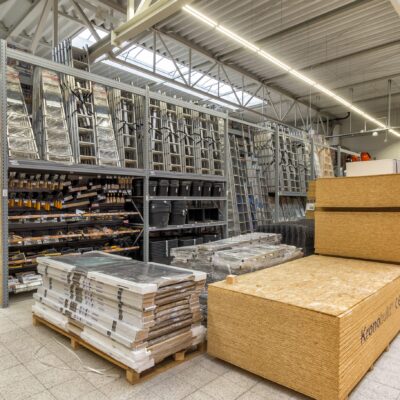 Integration shelving in the HR system
Standard dimensions of the HR integration system Rack:
Height:
2000 mm; 2500 mm; 3000 mm; 3600 mm; 4500 mm; 5100 mm; 5500 mm
Rack length modules in the light between the legs:
1250 mm; 1330 mm; 2000 mm; 2500 mm; 2660 mm; 2730 mm; 3000 mm
Shelving depth:
850 mm; 1050 mm; 1150 mm
Maximum load per frame:
5600 kg -> base from a shop rack and a floor with traverses
16,200 kg -> complete with crossbeams
Foot dimensions:
Width -> 70 mm
Length -> 80 mm
Perforation every 50 mm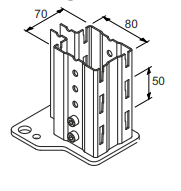 The foot of the HR system integration rack
The benefits of integrated shelving
visual improvement of the store, its attractiveness through better display of goods = attracting new customers

increasing the available space for storing goods = more effective logistics in the company

"Freeing up space" – it can be used to increase the display with new products, enlarge the parking lot, better arrange the store

more customers = increase in sales turnover

standardization of store shelves – the client gains the Kifato system shelves fully compatible with the European 50 mm system

eliminating the risk of incompatibility – the customer can easily sell Kifato integrated shelves at a good price as used system shelves, or without problems buy additional shelves on the market for further expansion of the store

the possibility of financing the investment through attractive leasing = fixed monthly costs, the client does not need to have own funds to reduce the income tax

acquiring a project of a new arrangement of a shopping centre, a new idea for a store

the owner acquires his own racks – he can negotiate more effectively with suppliers of goods (he does not need their racks, he only offers them commercial space, in case of better conditions he can easily replace their products with competitors' products)

overtaking competition, flight of competition – in particular chain stores planning to expand in small format to states and communal cities the

prices of integrated shelves can rise – we can all see what inflation is and what it is forecasting for the next few years, shelves are a good investment when money is really losing its value.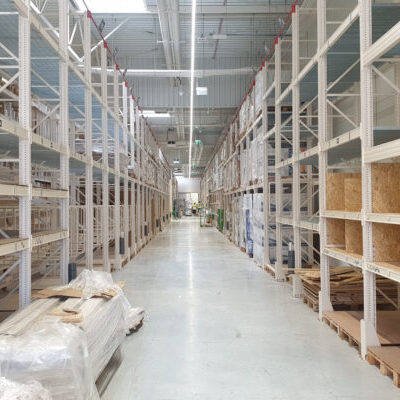 Integration shelves in the HR system during assembly
Racks for DIY stores
Integrated shelves are an ideal choice for building depots due to the possibility of presenting products intended for sale at the zero level and storing the stock of these products at level one. In addition, a wide range of accessories will allow for convenient presentation of each product, from shovels, through spools with chains, to power tools. In addition, shelves for DIY stores can be easily modified and transformed in any way, which allows for a very quick change of their purpose.
Main functional features
• Independent shelves for storing supplies on both sides of the rack
• Metal base lower shelf
• Possibility of using an additional assortment for the base shelf, intended for the shop system (e.g. strips, wire partitions, etc.)
Main design features
• Leg frame with "C" integration profile up to the full height of the storage leg frame
• Center profile 80×30 at the bottom mounted with the base of the shelving
• 80×30 middle profile mounted at the top with a special traverse holder
• Lower shelves based on two-sided brackets and the base of the shop rack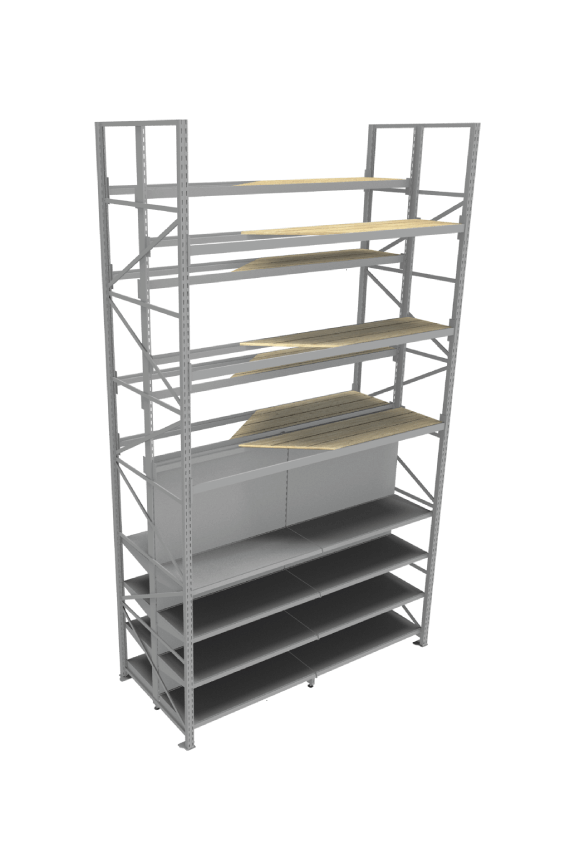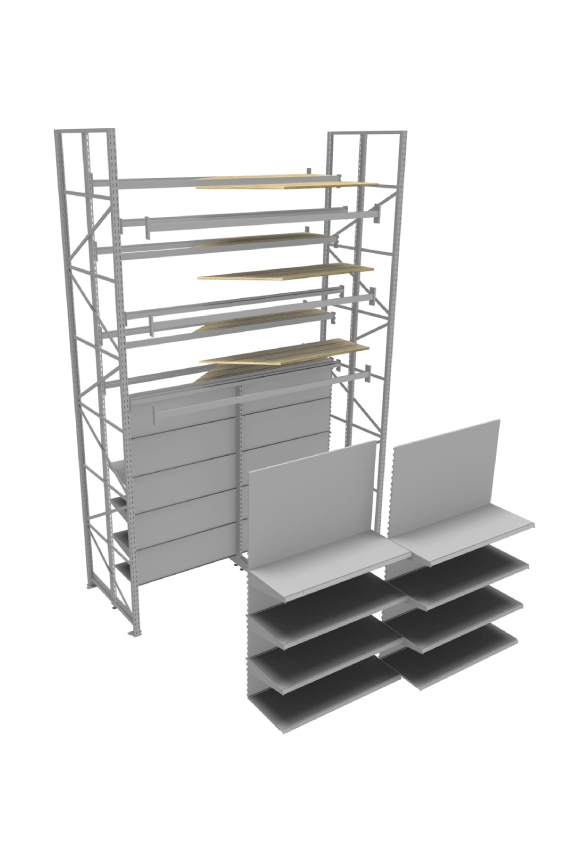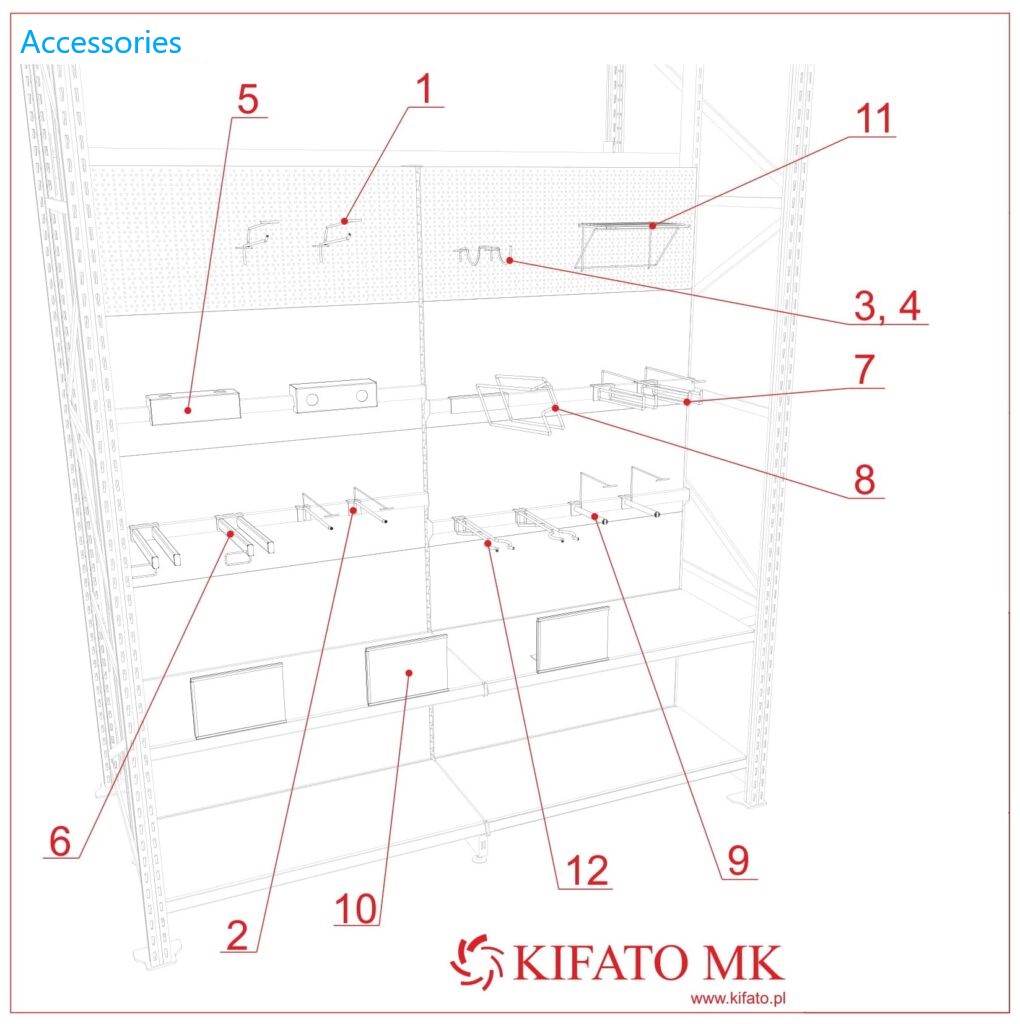 1. Standard hanger also used in store shelves. Perfect for light products such as measuring cups, brushes or other small items.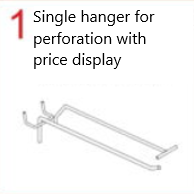 2. The product is very similar to a regular hanger with a label. The only difference is its fastening method – instead of attaching it to the back of the perforated one, we put it on a crossbar or a traverse.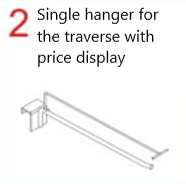 3. These hangers are used for power tools with wide hanging eyelets (the place for the price bar is wide and some products may be incompatible).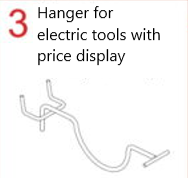 4. A twin brother of the predecessor, but without a price strip. This allows you to hang any power tool without worrying about compatibility.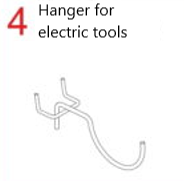 5. The faucet hanger allows you to hang most of the faucets by screwing them to a metal structure.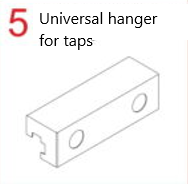 6. The hanger with a handle for the garden section allows you to hang shovels, rakes and forks in a convenient way, without hindering access.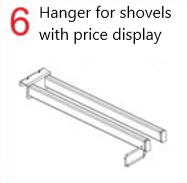 7. As the name indicates on this hanger, you can hang hammers, it is recommended to hang only one-handed hammers.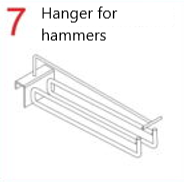 8. It allows for safe hanging of axes, even those with bared blades, without the risk of falling to the ground.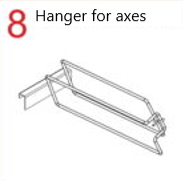 9. A special hanger for safely storing grinding discs and brushcutters.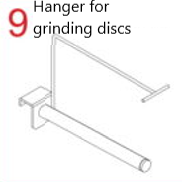 10. It is easy to install wallpapers on this type of display, which will serve as a template for customers to follow when choosing the right product.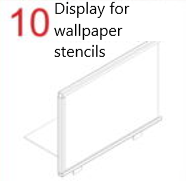 11. The shelf for power tools allows for convenient "loose" storage. This provides them with a solid surface that does not allow them to accidentally fall off.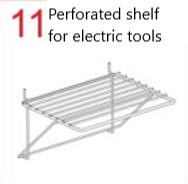 12. Hanger for trimmers Allows you to hang them conveniently, without fear of the product slipping out and falling to the ground.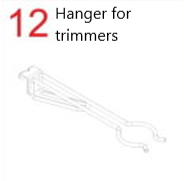 Custom accessories
We offer the production of any non-standard accessories for integration shelves on an individual order. The type of accessories can be agreed with our designers who will prepare a technical project and a solution tailored exactly to your needs. Due to the time necessary to prepare the project and implement a new production, in this case, one should take into account a certain extension of the delivery time in relation to standard accessories.
Reorganization
Properly carried out reorganization will change the face of the warehouse and DIY store into a professional commercial enterprise operating at a high level, thus increasing sales growth and raising the importance of the private label. In our portfolio, we can boast dozens of successful revolutions of warehouses, stores and DIY stores.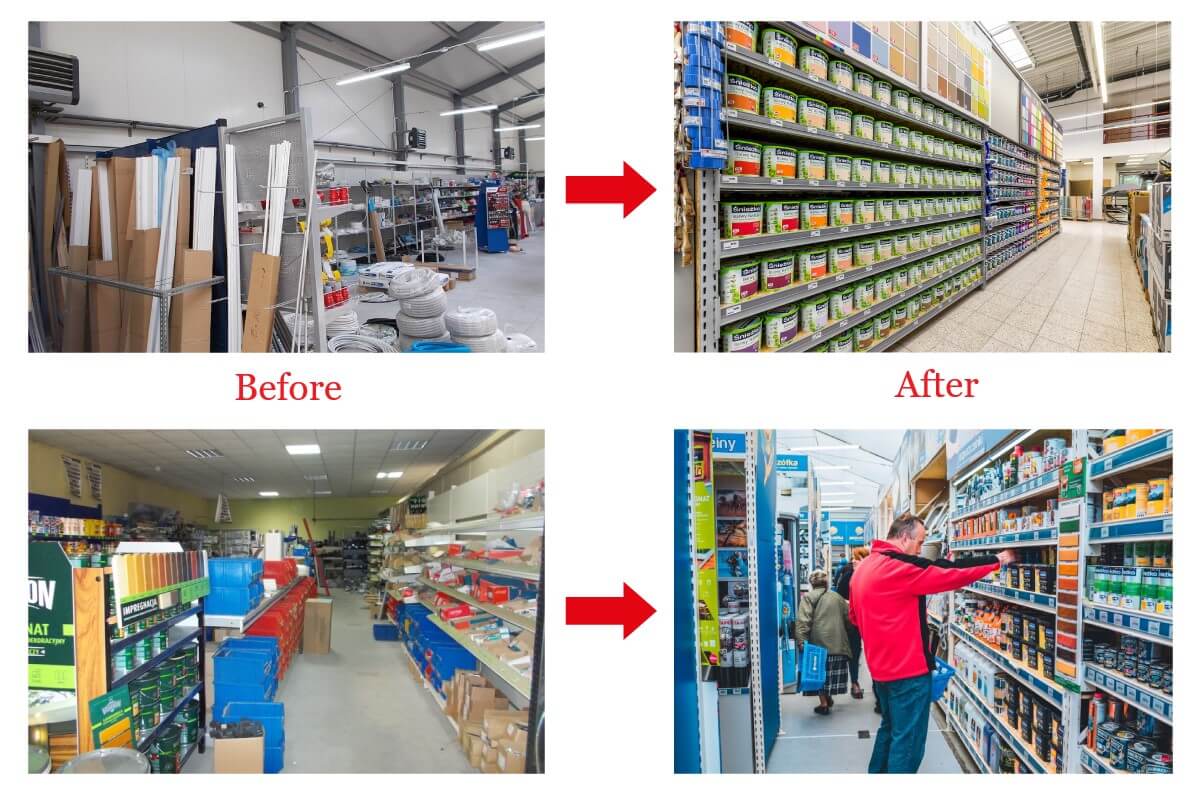 1.
Each reconstruction begins with the design of the racking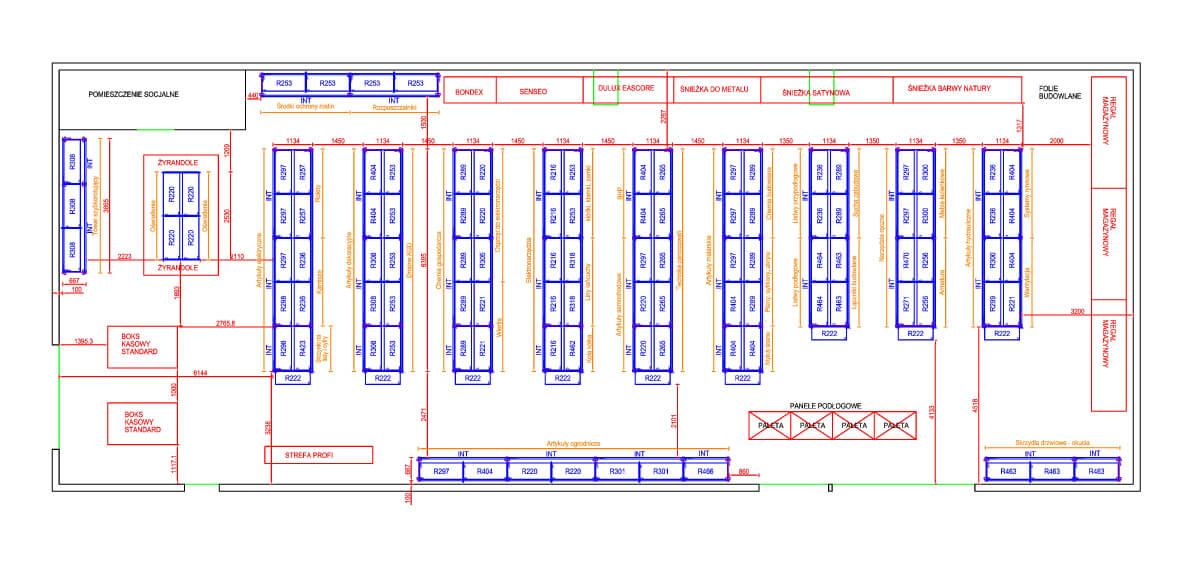 2.
Through the production of properly selected equipment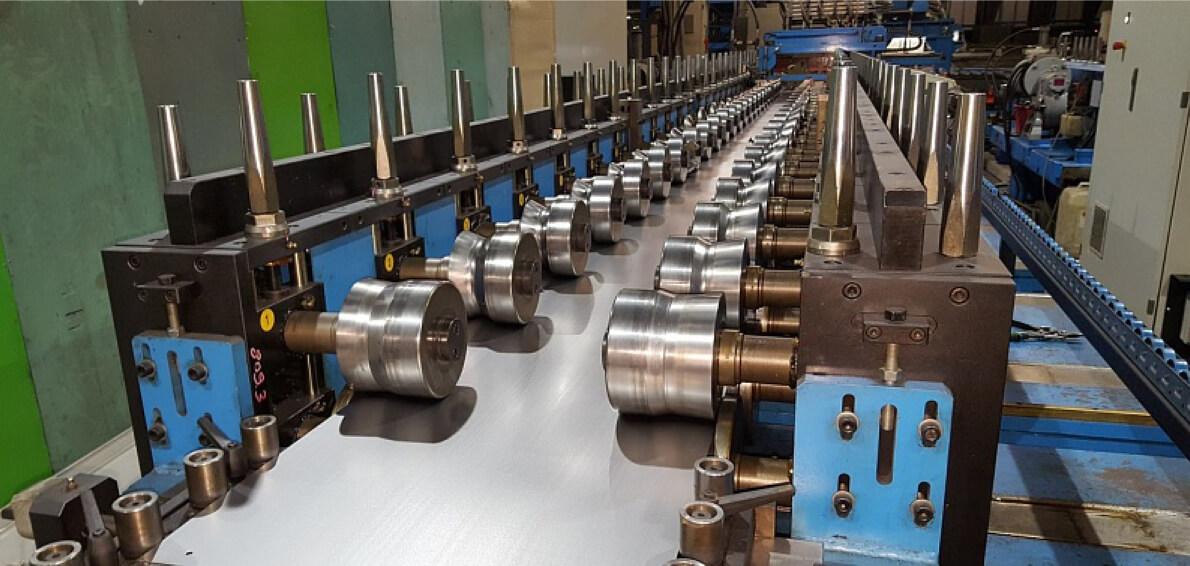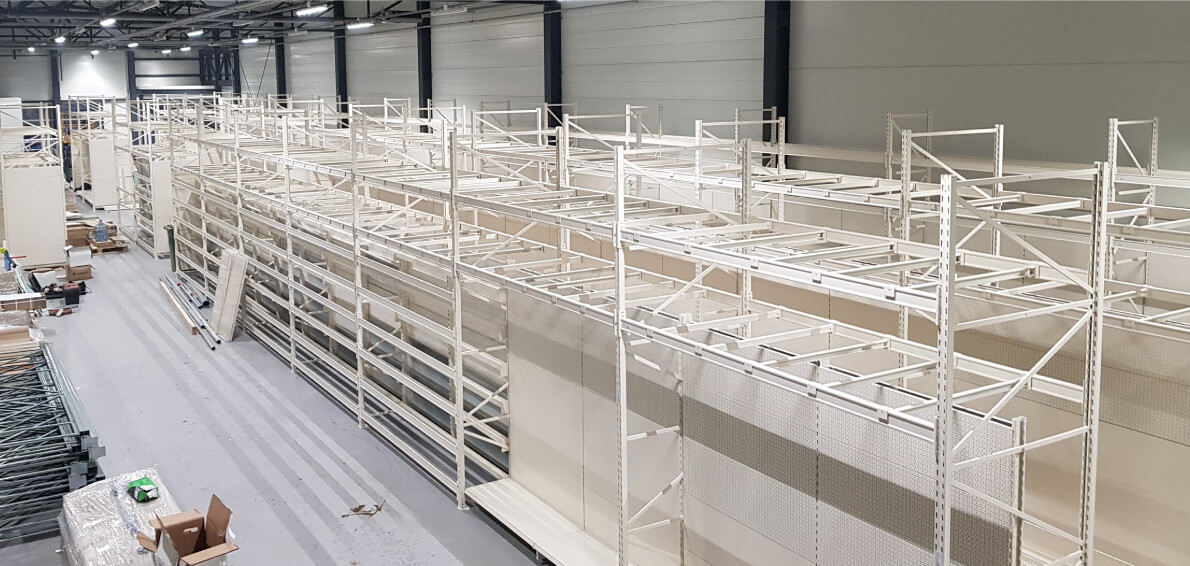 4.
To the end result – improving the attractiveness of the retail outlet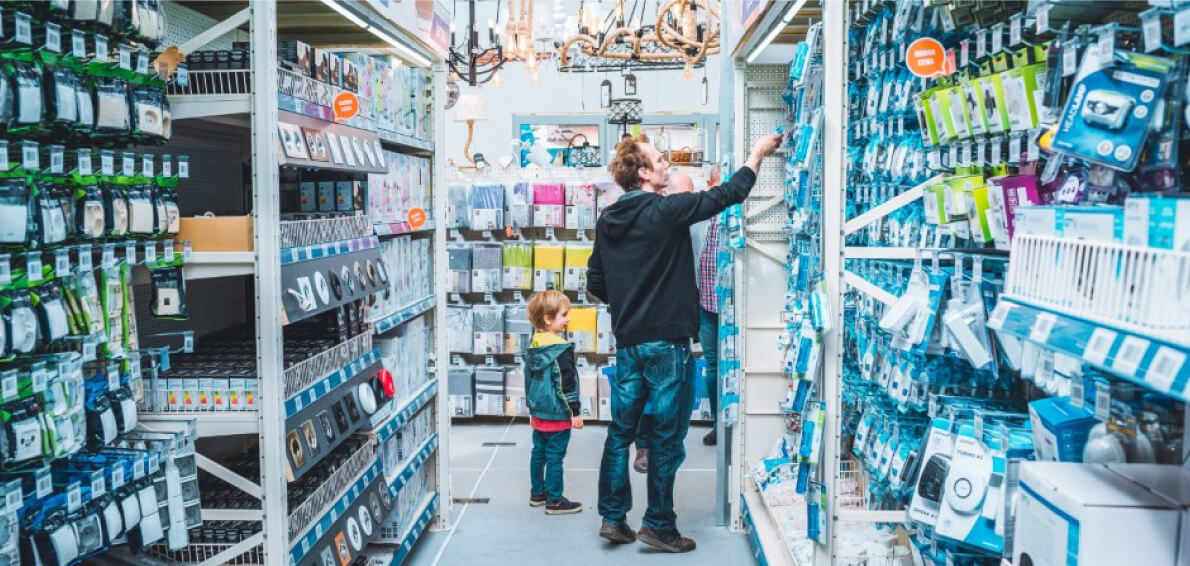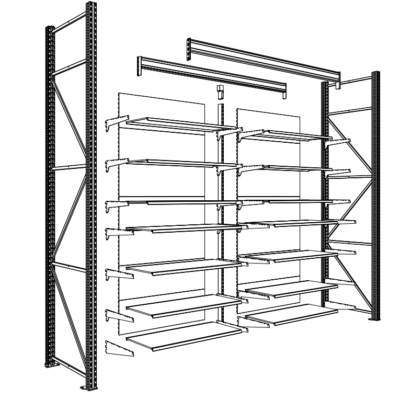 One-way integration in the MR system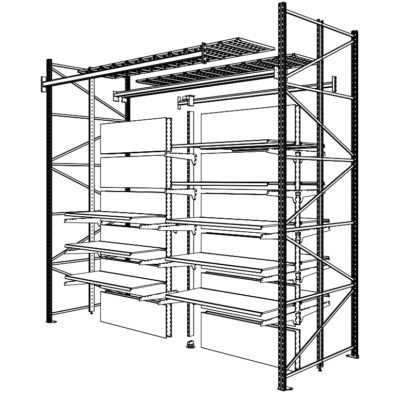 Bilateral integration in the HR system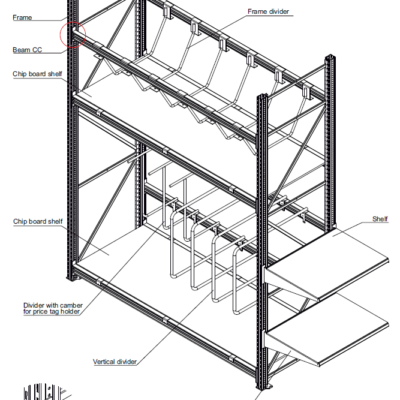 Integration shelving in the HR system with accessories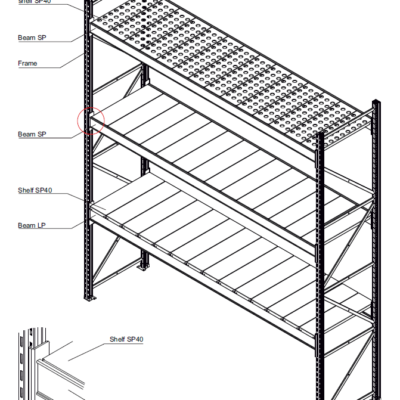 Integration shelving in the MR system for medium loads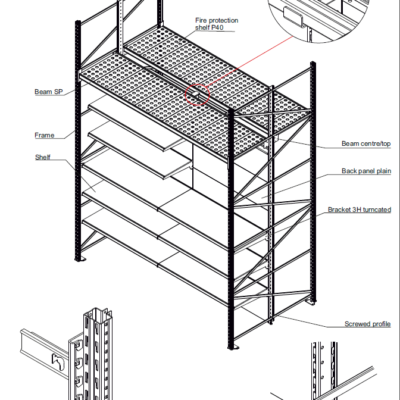 Integration shelving in the MR system with shop gondolas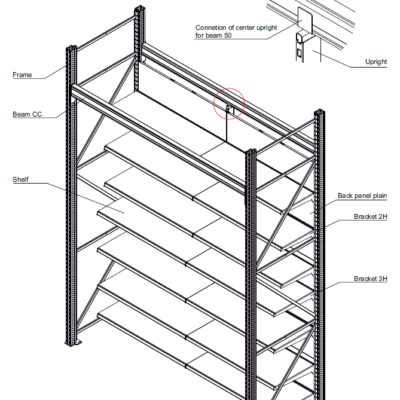 Integration shelving in the HR system with wall shelves
Quality and safety
All our racks for integration meet formal requirements in terms of health and safety, fire protection. and building regulations. The use of the highest quality steel and high production standards meant that our integrated shelves for construction stores obtained the German TUV certificate confirming the professional manufacture of our shelves.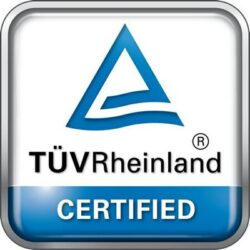 Transport
We organize the transport of integration shelves to any place in Poland and the EU.
Financing
We provide attractive financing of racks for integration in the form of leasing. You do not need your own funds to finance the investment.
Frequently asked questions