Tire racks are used to store car and truck tires. The tires are stored on special crossbeams – the tire goes between two crossbeams, and then its own weight keeps it firmly in place. We offer two different variants of racks for car and truck tires.
Tire racks in the SMK system are suitable only for storing car tires due to their light structure (and therefore cheaper). On one shelf of the rack, between the two frames, you can put tires with a maximum weight of 375 kg, while the entire rack can withstand a load of up to 5000 kg. Thanks to these parameters, we can obtain storage space for a really large amount of tires. The maximum width of the shelf is 135 cm, and the maximum height is 10 m. If you want to obtain a larger storage space (and to store truck tires), it is better to choose a rack in the MR system.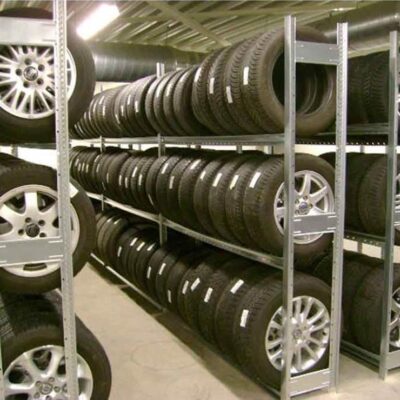 Available dimensions of SMK tire racks:
Frame height from 185 cm to 980 cm

Shelving depth from 30 cm to 70 cm

The width of the bookcase: 105 cm, 125 cm, 135 cm

Perforation every 5 cm

Maximum shelf load: 375 kg

Maximum section load: 5000 kg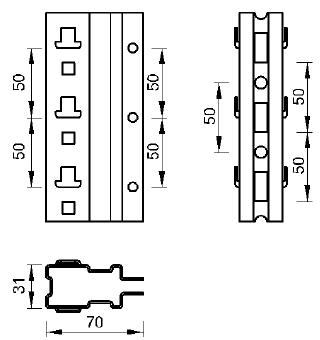 Construction of SMK base leg and frame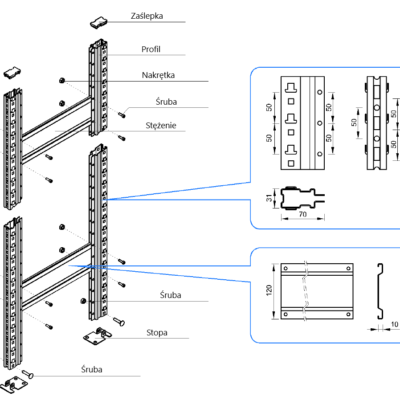 Construction of SMK frame
Tire racks in the MR system are characterized by greater strength, which allows you to carry greater loads. This allows for the storage of truck and car tires. The racks can withstand loads of up to 5,000 kg per rack. Thanks to the increased maximum width of 300 cm, one rack can store twice as many tires (unfortunately at the expense of a maximum height of 500 cm).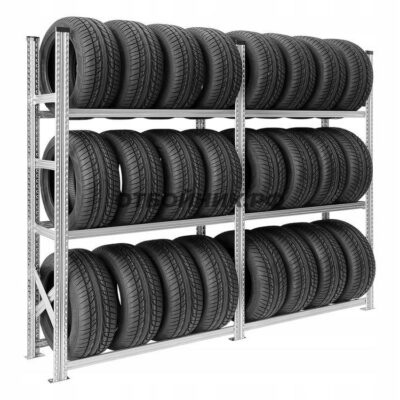 Standard dimensions of the MR system
Rack (profile) height:
2200 mm; 2600 mm; 3000 mm; 3600 mm; 4500 mm; 5000 mm
Rack length modules in the light between the legs:
1250 mm; 1330 mm; 2000 mm; 2500 mm; 2660 mm; 2730 mm; 3000 mm
Shelving depth:
600 mm; 700 mm; 800 mm; 950 mm; 1150 mm; 1350 mm; 1,550 mm
Maximum load per frame:
5000 kg
Maximum load per shelf / level:
960 kg
Foot dimensions:
Width -> 55 mm
Length -> 40 mm
Perforation every 50 mm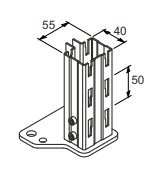 Tire mezzanines
Tire mezzanines are a solution that allows for the storage of very large amounts of tires with the maximum use of the available space. Storage takes place on two (ground floor + first floor) or more levels. In addition, such a mezzanine can store not only tires, but it can also be adapted to store items such as rims, wheels, bolts and other tire accessories. The versatility of such a mezzanine also allows for easy sale when we stop using it. Alternatively, it can be remade and used for the storage of other products. You can read more about standard storage mezzanines here.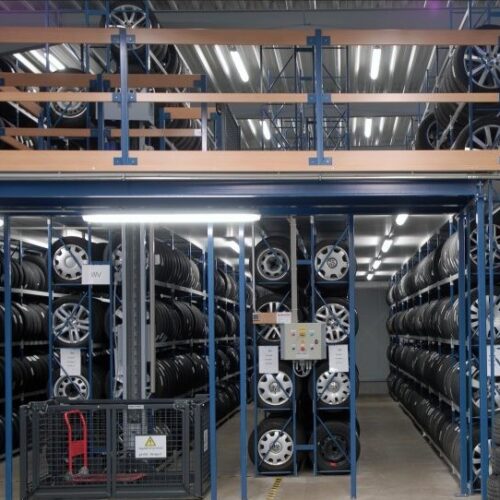 Quality and safety
All our tire racks meet the formal requirements in terms of health and safety, fire protection. and building regulations. The use of the highest quality steel and high production standards have resulted in the fact that our racks have obtained the German TUV certificate, which proves professional workmanship. Certificates and standards that meet our products: ISO 9001: 2015 certificate number CH16 / 1079 – Designing, manufacturing and safe of shelving equipment and wire production PN-EN 1993-1-3: 2008 and PN-EN 1993-1-1: 2006 – Eurocode 3 Design of steel structure.
Full service
Please contact us for individual pricing and preparation of a tire rack design. If you have any questions, please contact our sales department, who will answer your questions.
Installation
Tire racks up to 350 cm high do not require a professional assembly team and can be assembled by two people following the assembly instructions. We do not advise you to assemble the shelves yourself, as it may result in health impairment.
All our mezzanines and tire racks (racks over 350 cm) are installed by professional assembly teams with many years of experience. This guarantees safety and quality of workmanship. A large implementation team means that we are able to quickly assemble large and complex structures in the customer's facility.
Transport
We organize the transport of mezzanines and tire racks to any place in Poland and the EU.
Financing
We provide attractive financing of mezzanines and tire racks in the form of leasing. You do not need your own funds to finance the investment.